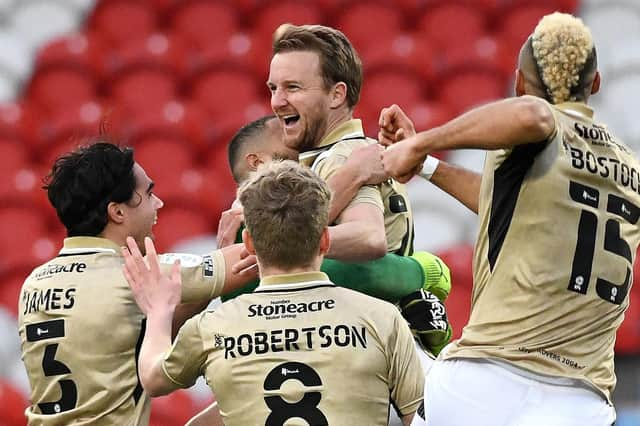 James Coppinger is mobbed by his teammates after his sensational equaliser against Hull City. Photo: Andrew Roe
It was in a televised game against Barnsley a couple of years ago, I'm fairly sure.
"James Coppinger," he said. "He's got a car park named after him here at the Keepmoat Stadium."
Words to that effect, anyway. It was the way he said it – with a slightly cheeky, condescending undertone – which stayed with me.
The obvious inference was that Coppinger, for the incredible service he has given Doncaster Rovers, was worthy of a lot more than a car park named in his honour.
And let's face it, the 'James Coppinger Car Park' just doesn't cut it, does it? It's impossible to argue against that sentiment.
Seventeen years at one club, 799 senior career appearances, several haircuts, countless chops and a handful of genuinely unforgettable, almost unfathomable, moments: Southend, Brentford, Morecambe, Hull City.
Copps has been a constant in all of our lives. It feels like he's always been here and it's difficult to process the thought of watching Rovers without him.
One of a kind. An icon. Role model. A true club legend. You run out of superlatives.
So, as well-intentioned as the car park honour was when it was announced in 2017, it's no longer appropriate for Doncaster's favourite and most famous adopted sporting son.
Whether it's a statue, a stand named after him at the Keepmoat, a lifetime ambassadorial role at Rovers or the Freedom of Doncaster, someone at Club Doncaster and/or Doncaster Council now needs to take the bull by the horns.
Coppinger may be modest, almost embarrassed, about the prospect of such an accolade. Such things don't motivate him.
But it's vitally important that this town finds a fitting way to pay tribute to a man synonymous with its football club, synonymous with loyalty, synonymous with striving to be the best version of yourself.
We are the lucky ones. We got to watch him in the flesh. But James Coppinger's legacy should be an inspiration for generations to come.