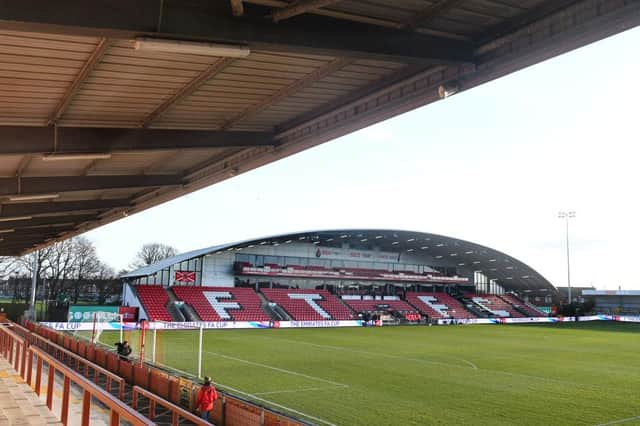 Highbury Stadium. Photo: PAUL ELLIS/AFP via Getty Images
Rovers have taken just one point from matches against relegation rivals AFC Wimbledon and Gillingham in recent weeks.
Today is one they dare not lose – and probably need to win – if they are to claw their way to safety.
Fleetwood, in 19th, are four points better off than Rovers and also have a game in hand.
The Cod Army won 1-0 when these sides met at the Eco-Power Stadium in January.
Keep refreshing this page for the latest updates from Highbury Stadium.
LIVE: Fleetwood Town v Doncaster Rovers
Last updated: Saturday, 19 March, 2022, 16:56
MATCH DETAILS
Fleetwood Town 0 Doncaster Rovers 0
Fleetwood: O'Hara, Jules, Butterworth (Camps 46), Johnson, Biggins, Baggley (G Garner 46), Lane, Nsiala, Boyle (J Garner 72), Johnston, Hayes. Subs: Cairns, Clarke, Pilkington, Macadam.
Rovers: Mitchell, Knoyle, Williams, Olowu, Rowe, Smith, Galbraith, Martin (Jackson 60), Barlow, Hiwula (Gardner 87), Agard (Griffiths 13). Subs: Jones, Younger, Clayton, Dodoo.
FULL TIME
Quite frankly, that was an awful game of football. Two teams completely lacking in belief on a poor pitch and the wind was blowing a gale too.
Unconvincing from Rovers. They were unable to put a vulnerable Fleetwood team under any sustained pressure.
It's an away point but there's every chance it won't be enough in the long run.
87 GOALS
Significant goals elsewhere as AFC Wimbledon concede two in quick succession and now trail 2-1 at Cheltenham Town.
82 FREEKICK
Lane with the freekick attempt on the angle but it's straight at Mitchell.
80 LATE TWIST?
It's Fleetwood who have looked most likely in this second half.
Or will be there a late twist?
Good save from Mitchell to keep out Hayes' effort. The home side are gaining momentum.
Biggins with the shot from just outside the box, just wide.
68 BREAK
Decent break from Rovers, Jackson's shot saved by O'Hara.
It's been more of the same, really. Two poor teams cancelling each other out.
The home side are starting to throw more balls into the box.
54 FINAL BALL
The final ball/final product has been truly awful at times from Rovers.