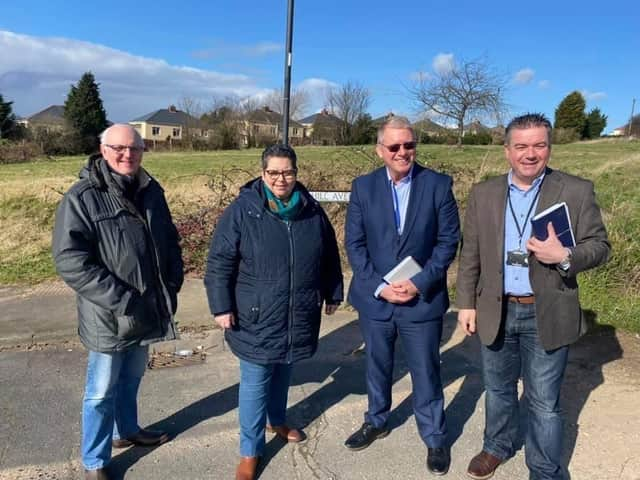 Mexborough First
Despite having just three councillors following the 2017 election, Mexborough First is technically the third largest party on the council and returning candidate Andy Pickering said localist groups better represent people.
The story of Mexborough First began when plans were put forward to build a fourth supermarket chain in the town nearly 10 years ago.
The Save the High Street campaign got off the ground and Andy claimed there was no support from the previous Labour councillors.
"I just felt this couldn't happen, it just didn't seem right and we needed to do something. We needed to fight against this supermarket because we'd have more supermarkets per square mile than probably anywhere else in the UK," Andy said.
"They (Labour councillors) wouldn't tell us what they thought about this supermarket.
"We fought it up to the planning meeting and the leader of the local Labour group at the time didn't bother turning up the meeting – probably the most important one in 30 years – but he had a statement read aloud saying he fully supported this supermarket.
"I thought this was not on, I believe he should have supported it before and at least we could discuss the issue. But, to not want to engage and then support it was wrong."
Andy was then asked to stand as an independent in 2012 but came second. Standing as the newly formed Mexborough First in 2014, Andy took the seat from Labour.
In 2015, Mexborough First returned a full ticket and Andy was joined by Sean Gibbons and Bev Chapman in a tightly fought contest with Labour.
But 2017 saw Mexborough First come out well ahead of Labour whose leading candidate was a huge 1,600 votes behind Pickering.
The news hit the local Labour party hard and they are wanting to take the three seats back.
Labour's incumbent mayoral candidate Ros Jones recently announced there would be a town centre masterplan. The Mexborough First group said they were 'blindsided' and called for a masterplan for many years before.
The three councillors, who vehemently oppose the HS2 route which will run through the Shimmer housing estate, have increased their profile probably more than independents normally would.
But the success of Mexborough First in previous elections has caught the attention of others elsewhere in places like Edlington and Hexthorpe.
"This is not unique to Mexborough but one of the real problems is that Doncaster has basically neglected the principal towns outside the town centre," Andy said.
"It gets to a stage where I think people get a bit cheesed off by that. They now see hundreds of millions being spent in Doncaster itself and very little being spent outside.
"I think people begin to think that they've been forgotten about to be quite honest.
"It is under the Doncaster Council boundary but the town is the fifth largest in South Yorkshire and we have our own identity. Independents like us are not dictated by whips like the established big parties like Labour and and Conservatives are. We are passionate about the areas that we live in and want to help people."
Full list of candidates standing in Mexborough (three councillors to be elected)
Rory ForesterColin PinderTerasa Glynn
Andy PickeringBev ChapmanSean Gibbons
Malcolm GambleTony RawlinsMick Muddiman
*