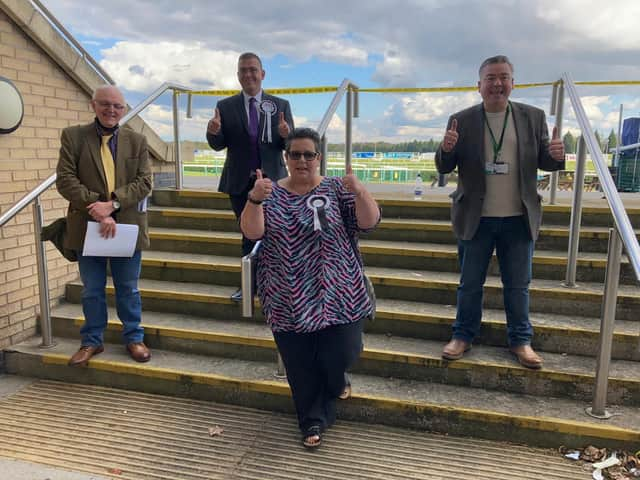 Mexborough First
All three independents, Sean Gibbons, Bev Chapman and Andy Pickering, were comfortably re-elected in the Mexborough ward beating the nearest Labour candidate Malcolm Gamble by over 800 votes.
Former Labour council candidate also took a seat from his former party with the Edlington & Warmsworth First group who are closely aligned with the Mexborough independents.
Labour put up a large number of resources into taking the ward which they began to lose from the 2015 election and the latest campaign saw visits from Doncaster mayor Ros Jones and Doncaster North MP Ed Miliband.
It's understood social media videos posted by Mexborough Labour party with candidate Malcolm Gamble prompted complaints to Mayor Jones from the Mexborough First candidates.
Mayor Jones in a statement said she hoped that councillors from all parties would come together to work for the betterment of communities like Mexborough.
"We were up against some absolutely disgusting allegations throughout the campaign," Councillor Chapman said.
"But the result goes to show, dirty tricks and trying to blacken peoples names don't win votes, sheer hard work and listening to the electorate does.
"We're very proud to be serving Mexborough again for another four year term, thank you to the people of Mexborough for putting your faith in us."
Labour mayor Ros Jones said: "The elections are now behind us, with the Mexborough Masterplan being published in the summer, and work on masterplans commencing for Edlington, Thorne & Moorends and Rossington in the coming months.
"These masterplans will provide shovel ready schemes for when new pots of funding are announced.
"I encourage all Doncaster councillors to work with me, to put aside political differences and work together to bring about real change for our residents and communities."
MEXBOROUGH FIRSTSean Gibbons: 1,673 (elected)Bev Chapman: 1,639 (elected)Andy Pickering: 1,611 (elected)
LABOURMalcolm Gamble: 797Tony Rawlins: 426Mick Muddiman: 418
CONSERVATIVERory Wood: 197Teresa Robson: 191Colin Pinder: 188
*