Lockdown restrictions mean we'll celebrate our 70th wedding anniversary with fish and chips in our Doncaster garden - and wear duvets if it's cold'
It may not be how they expected to celebrate their 70th wedding anniverary.
Sunday, 9th May 2021, 5:58 pm
But with lockdown restrictions still around, Walter and Ida Turgoose are set to mark their big day outdoors with chips and sparking wine in their Doncaster garden, with duvets at the ready.
They were married at St Leonard's Church, Armthorpe, on May 19, 1951, and brought up daughters, Rita, Sylvia and Andrea in their council house on Rands Lane. They now also have two grandsons and a granddaughter.
Although coronavirus lockdown will affect their celebrations they are determined to mark the day, and plan fish and chips with the family, plus cake and bubbly. There will be 10 there – and rules only allow six indoors, so they are going outside.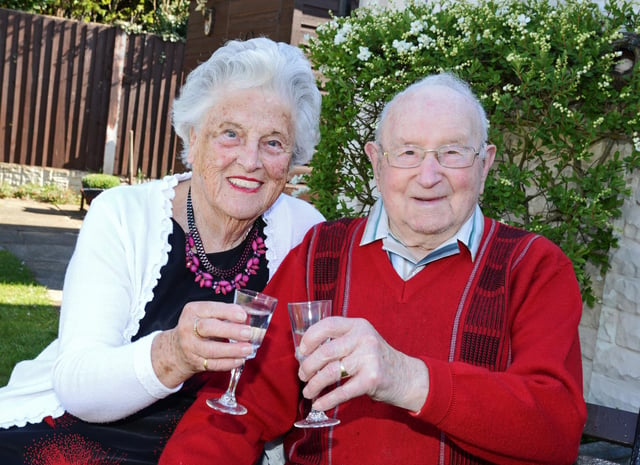 Ida Mary and Walter Turgoose, pictured celebrating their 70th wedding anniversary. Picture: NDFP-13-04-21-Turgoose 5-NMSY
"We're hoping we'll get good weather for it," said Ida. "But we will have a gazebo available, and we will put duvets round ourselves if it comes to it!"
Walter, now 96, and Ida, 89, first met on a night out at the cinema in Armthorpe, and were trying to pair off his brother and her friend.
But it was they who became a couple.
Ida, a miner's daughter, was born and bred in Armthorpe. Walt had moved to Armthorpe from Hatfield Woodhouse, growing up at Black House Farm, since demolished to make way for the Armthorpe link road.
Ida Mary and Walter Turgoose, pictured on their wedding day 70 years ago. Picture: NDFP-13-04-21-Turgoose 3-NMSY
But living on the opposite side of the town, they did not meet until Ida was 17, and Walt was 24.
Ida said: "We did all our courting at the pictures in Armthorpe, at the Scala. People used to queue for yards and yards up the main road, waiting to get in. When you were young you went in the cheap seats, the splints they called them, at the front. But if you were courting, you used to go for the double seats, upstairs.
"Me and my friend used to go to the cinema and there were two lads who used to come and sit near us. I was trying to get her off with Walt's brother. That didn't happen but Walt and I became an item.
"His sister ran The Lion in Conisbrough, and we went there sometimes too. Walt had a car that he'd take me out in, a Wolseley, I think."
Ida Mary and Walter Turgoose, pictured celebrating their 70th wedding anniversary. Picture: NDFP-13-04-21-Turgoose 4-NMSY
They got engaged in October 1949, while Ida was performing as a chorus girl in a Doncaster Thespians amateur production of Rose Marie, at the Grand Theatre.
She said: "I remember the day Walt asked me to marry him. We'd just been into town and he had a new jumper on. It looked good. He kept that jumper a long time, like a lucky jumper."
Walt worked in local quarries, and Ida worked for Firths, a builders merchant.
Walt also spent time as a miner, having been called up as Bevan boy during World War Two. He had hoped to join the RAF, but the Government sent him down the pit.
After 70 years together, Ida believes the couple, who still live in Armthorpe, know the secret to a successful marriage. "Talking it the secret," she said. "You've got to talk things over. I'm not saying we've never had an argument, or a disagreement as we'd call them, but we always end up having a laugh about it later."
In these confusing and worrying times, local journalism is more vital than ever. Thanks to everyone who helps us ask the questions that matter by taking out a subscription or buying a paper. We stand together. Liam Hoden, editor.