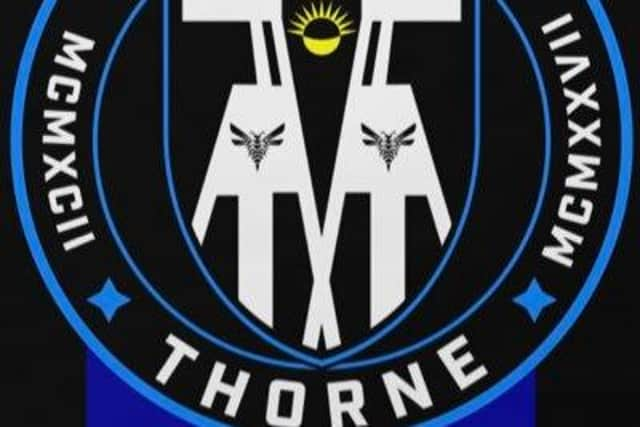 Club Thorne Colliery's new badge
The Central Midlands League outfit will be known as Club Thorne Colliery following their re-brand.
They have also announced a merger with Doncaster & District Junior Sunday Football League club Moorends Hornets & Stingers.
Colliery were recently unsuccessful in their application for promotion to the Northern Counties East League as part of the FA's restructuring of the game at Steps 4-6 of the National League System.
But they are confident of mounting a promotion push on the pitch this season.
Chairman Mark Phillips said in a statement: "We have recently been out to public consultation on the proposed merger between Thorne Colliery FC and Moorends Hornets & Stingers FC. We have heard from many stakeholders, all of which are of the unanimous opinion that a merger is a positive move for both clubs.
"With this in mind both clubs have signed an agreement to work together under the Club Thorne CIC umbrella. Club Thorne (Community Interest Company) is a non for profit social enterprise with no shareholders or wealthy donors. There are currently four directors on the board, with two more directors set to join the board from Moorends & Stingers in line with the merger.
"Whilst news of the merger has been well received, the notion that both clubs may need to change their name has divided opinion in the community.
"The history of both clubs is important to us too, in particular Thorne Colliery FC whose heritage dates back to the 1920s.
"With this in mind, we would like to share our thinking on the new club structure and proposed name operating under the Club Thorne umbrella. First team: Club Thorne Colliery. Reserves/Development & Juniors down to U7s: Club Thorne Academy. Nursery Age Group, U6s and below: Club Thorne Hornets & Stingers.
"Our aim is to build the profile of the club, increase the amount of people coming through the gate and give the community a non league football club to be proud of. We will also be providing a pathway and opportunity to progress in football for young local players.
"We urge the community to get behind the club as we enter a new era."