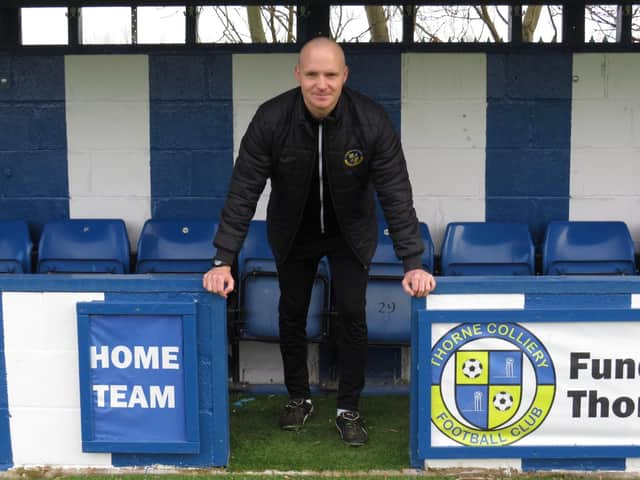 Thorne Colliery boss James O'Neill
Colliery have slipped under the radar in recent years, struggling to make an impression in the Central Midlands League.
But a new broom is busy sweeping clean at the Welfare Ground in Moorends.
A 'Club Thorne' rebrand is aiming to raise standards on and off the pitch and also reconnect with the local community.
Thorne Colliery, in blue and white, in action at Bridlington. Photo: Dom Taylor
The club has also applied for promotion to the Northern Counties East League and, although that is a long shot for next season, they are monitoring with interest the FA's plans to restructure the game at Steps 4-6 of the National League System.
At the forefront of the club's relaunch is Thorne-born manager James O'Neill, a former midfielder with Goole AFC, Winterton Rangers and Retford United.
Colliery gave O'Neill his senior debut at the age of 17 and now the 33-year-old is determined to give something back to his hometown club.
"It's a tired old cliche and everyone seems to call their club a sleeping giant," said O'Neill.
Thorne Colliery in action at Bridlington. Photo: Dom Taylor
"But going back to the early years, the 1930s and 1940s, this ground would be packed full of supporters.
"Thorne Colliery had a lot of success in the 1980s.
"It was one of the best non-league teams in Yorkshire back then and I just think it's been forgotten about in recent times. It seems to have just drifted away.
"We've come on board with the Club Thorne structure and a new board of directors and we've set ourselves a few aims for the next few years.
"There's myself, Richard and Mark Phillips, who are all from Thorne and live in Thorne, and Mark Turner who's played and managed at the club before. The club means a lot to us.
"If possible, we want to progress up through the National League System but we know that won't happen overnight. It'll need a lot of hard work.
"We want to try and develop and bring through some local players.
"For the first time the club's had a development team this year and we've already seen some of those young players step up into the first team and become regulars.
"We also want to try and get the club and the community to re-engage again. Over recent years the number of volunteers and spectators has been pretty minimal.
"Every football club should be there to serve its community and we're striving to do that. We're doing a charity running challenge throughout March and will be launching a men's wellbeing initiative after lockdown.
"We're trying to give the local community something to be proud of, something to be excited about, that they want to be involved in.
"And we've seen already that attendances have been bigger than they have for a number of seasons. We've got more people involved now – a matchday announcer, videographer, kit man.
"It's about growing a football club and there's a lot more to that than just what's happening on the pitch."
Colliery were members of the NCEL from 1982-86 before resigning due to financial issues.
"Applying to join the NCEL is something we'll do every year – to show that ambition – and then try to earn promotion on the field," said O'Neill.
"The club's not been able to get back to that level due to the lack of floodlights but now they've been installed that's an obvious target for us.
"It's a project that's been in the pipeline for a number of years and the local town council and Mooorends Miners Welfare worked really hard to get those in place.
"We want to create a thriving, bubbling, community football hub," he added.
"There's been discussions about a merger with one of the big junior teams in the area, for instance.
"A lot of the infrastructure is now in place: ticket office, video gantry, alcohol licence – all of the things you sometimes take for granted at bigger non-league and certainly professional clubs. We're trying to head in that direction."
Colliery lie seventh in the Premier Division North table and, at the time of writing, are waiting to hear whether they will resume playing.
Unlike leagues at Steps 3-6, which have been curtailed, those further down the pyramid have been given permisssion to play on until June 30 – and the Central MIdlands League have said in a statement they are keen to restart.
"I think most people in the game would say it's been far from ideal but that's the case across life in general at the moment," said O'Neill, reflecting on managing a non-league club during a global pandemic. "You just try to make the best of it.
"The difficult thing has been trying to get a new squad gelled together and build some momentum when you're constantly having weeks or even months apart and you're not able to train or play matches.
"It doesn't make it easy but the lads have been great and after that second lockdown in November we came back in December with two wins.
"We had a difficult start and when there's a lot of change it inevitably takes a little bit of time for things to click," he added.
"The first few games were frustrating but since then we've kicked on – we've won our last four games and only conceded one goal in those games.
"So the signs moving forward are positive. We've got a strong squad in place now and we'll be really excited when we finally get to come back together.
"If we have an unbroken run of games and training we'd be really looking forward to seeing where it can take us."