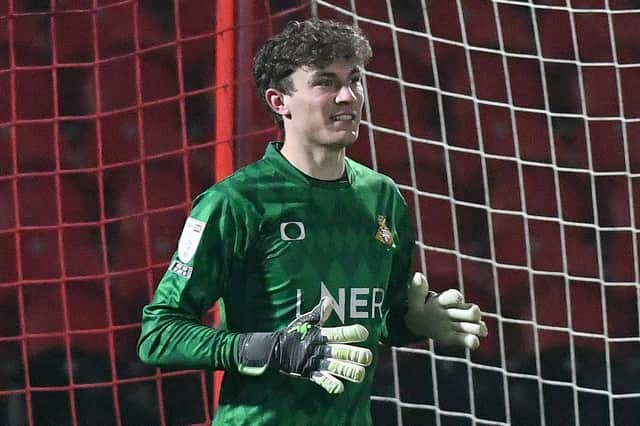 Louis Jones made his league debut against Portsmouth.
So it seems an appropriate time to do some research and crunch the numbers on previous youth graduates.
The 22-year-old's appearance in Tuesday night's 2-1 win over Portsmouth was significant for many reasons - none more so than the fact it was the first time a Rovers goalkeeper, who also played at academy level for the club, has featured in an EFL game this century.
Having checked with club historian John Coyle, the last youth graduate goalkeeper to appear in an EFL game for Doncaster Rovers was Gary Hoggeth (vs Chester City) in April 1998 - coincidentally, this was on the day that the club were relegated from the Football League.
Furthermore, Jones is the only graduate goalkeeper to appear for the first team in any competition since the academy reformed ahead of the 2004/05 season.
Since then, six other goalkeepers have been involved in matchday squads (including cup games) - Lee Cockerham, Jordan Bradshaw, Jonny Maxted, Jack McLaren, Dec Ogley and current youth shot-stopper Ben Bottomley, but they were all were unused substitutes.
Undoubtedly, Maxted was the unluckiest never to feature. Despite being named as a substitute on approximately 75 occasions - including under three different managers AND for pretty much the entirety of the 2013/14 season, he was never handed his debut. He chose to move on and is now playing for Exeter City in League Two.
Considering that goalkeepers are always fighting for just that one position and most Premier League and Championship clubs have stockpiled at least four or five nowadays, not forgetting those who do the rounds in the lower divisions or, also, that it's relatively easy for clubs to sign a 'keeper on an emergency loan at short notice, this week's events are noteworthy and should be highlighted.
So well done to Louis Jones on earning his first league appearance and for new manager Andy Butler in trusting him with that responsibility.
To crunch some more numbers regarding the youth to first team pathway in the years since the academy reformed:
- 12 youth/academy graduates have started in at least one league game
- 20 youth/academy graduates have featured in at least one league game
- 34 youth/academy graduates have made at least one first team appearance in all competitions
- 61 youth/academy graduates have been involved in a matchday squad in all competitions
Of the 12 lads who started a league game, James Husband made the most appearances with 64 (54 starts/10 sub apps) closely followed by Harry Middleton who featured 63 times (31 starts/32 sub apps).
Liam Mandeville and Mitchell Lund also figured prominently, making 49 (18/31) and 40 (33/7) respectively.
The the other names amongst this small batch of players are Danny Amos, Waide Fairhurst, Liam Wakefield, Craig Nelthorpe, Alex Peterson, Jack McKay and then more recently AJ Greaves and now Louis Jones.
The eight other lads who featured in at least one league game as a substitute but were never included in the manager's starting line-up are Billy Whitehouse, Will Longbottom, Lirak Hasani, Adam Brown, Liam Green, Jake Fletcher, Jordan Ball and Rieves Boocock.
Of those, Brown is probably the best remembered name given that he scored on his debut in a 4-2 win at Stockport County in April 2005.
It's surprising that Longbottom never started a league game given that he played under three different managers, whilst Whitehouse (6 sub appearances) featured the most frequently.
That leaves 14 other lads who pulled on a DRFC shirt and appeared in at least one cup game. Amongst them are Josh Meade and Evan Finnegan, both of whom featured in the same Johnstone's Paint Trophy loss to Crewe Alexandra during the 2012/13 season.
Striker Brad Grayson featured for extra-time in a Carling Cup defeat to Accrington Stanley when Sean O'Driscoll was manager - as did Robbie Clark, whilst Paul McKay was in the starting line-up for a Johnstone's Paint Trophy draw against Burton Albion in the final few days of Paul Dickov's reign.
The next batch of players were all handed their first senior outing by either Darren Ferguson (2015-18) or Grant McCann (2018-19): Branden Horton, Cody Prior, James Morris, Joe Pugh, Lewis Scattergood, Morgan James, Reece Fielding, Tyler Walker.
That then leaves current youth team midfielder Liam Ravenhill. Then aged 17, he was given his first appearance by Andy Butler (standing in as caretaker manager at that point) in a televised FA Cup tie against FC United of Manchester earlier this season.
Finally, the 21 graduates, taking away the six goalkeepers already mentioned, who made it as far as the substitutes bench but never made it onto the pitch. They are Aaron Jones (later to play in New Zealand and Norway), Ben Askins, Ben Blythe (still on the books right now), Brett Lucas, Chaz Fisher, Eddie Wilding, Jack Watson (top scorer at Rossington Main in the season just gone), Jordan Binns, Jordan Linley, Josh Barker, Keegan Townrow, Kevin Mbuti, Lewis Ferguson, Matt Noble, Matty Davies (now at Staveley Miners Welfare), Michael Carberry, Myron Gibbons (also at Staveley Miners Welfare), Paddy Mullen, Rob Pacey (running a very successful podcast nowadays), Robbie Oldham and Scott Brown (later to play in Sweden before coming back home).
There were also some youngsters, such as Cameron Foulkes in the 2018/19 campaign, who were rewarded with a first team squad number but were never included on a matchday.
The ones that got away...
As is often the case not every player makes it professionally and there are others who move elsewhere and absolutely flourish. Two youngsters who were on Rovers' books at one point and ended up forging decent careers are Andrew Boyce (currently at Eastleigh) and Jerry Yates (bagging for fun at Blackpool).
Rovers received a fee from Sunderland for Owen Gamble six years ago and he's now at York City, whilst Mason Warren was in the DRFC ranks up to Under 16s level before he ended up signing professionally at Rotherham United before ending up as Mickleover Sports' captain.
For avoidance of doubt, the definition of a 'youth/academy graduate' in this piece is a player who either came through the junior ranks or completed their scholarship (aged 16-18) at the club.
Note 1: During the 2003/04 season - Rovers' first campaign back in the Football League, several players featured in matchday squads for the first team who'd been involved at youth level during the club's five-year stay in the Football Conference. These players included Jamie Price, Jon Maloney, Rob O'Brien, Bryan Craig, Chris Dickman and Martin Drury.
Note 2: Ben Jackson is not included, despite having appeared at both youth and first team level during the 2004/05 season. He appeared for the youth team as an 'over-age' player, but completed his YTS scholarship at Newcastle United.