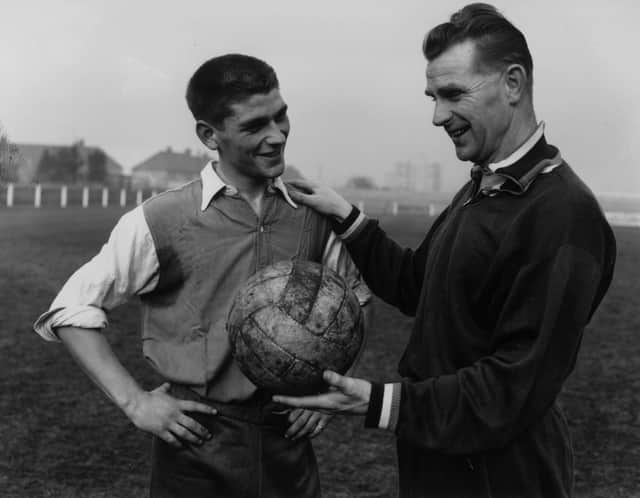 Peter Doherty, right, is pictured in 1959 talking to Johnny Crossan while on managerial duty for Northern Ireland. Picture: Central Press/Getty Images
Rovers historian John Coyle has been counting down the top ten Rovers managers of all time over the last couple of months.
And at the top of the list is Peter Doherty – the 'innovator' who helped the club prosper in the old Division Two during the 1950s.
1 PETER DOHERTY (1949-1958)
Peter Doherty was one of the finest footballers of the 1930s and 1940s, a gifted inside forward with an eye for goal.
In addition to his 16 full caps for Northern Ireland, he won a Football League champions medal while with Manchester City and was a member of Derby County's FA Cup winning side.
He joined Rovers as player-manager for a fee of around £8,000 after spending nearly three years at Huddersfield Town. He was to lead Rovers into their most successful era.
Doherty's appointment brought immediate dividends as Rovers won the Division Three (North) title in 1949-50, the player-boss himself contributing 27 league goals.
He also made some important signings including centre-forward Ray Harrison and full-back Len Graham.
Doherty demonstrated the innovative approach that was to be his hallmark, setting up nursery sides in South Yorkshire and Newcastle and appointing a scout in Ireland.
He also supervised the building of a nursery ground at Thorne.
Rovers' previous efforts in Division Two had been short-lived, but Doherty saw to it that the club survived and prospered at the higher level.
Rovers' best placing was 11th in 1950-51, but they were seldom in danger of relegation and the era featured some memorable games.
A 4-3 victory over Doherty's old club, Manchester City, after Rovers trailed 0-3 at the interval, was the highlight of 1950-51.
FA Cup triumphs over Middlesbrough and Sunderland were followed by the famous tie with Aston Villa in 1954-55 when Rovers beat the First Division side in the fourth replay.
However, results do not reflect Doherty's real value as a manager.
He was an innovator, introducing floodlights for training and then using them for a series of well-attended friendlies.
He brought Alick Jeffrey into the first team before the Rawmarsh youngster had celebrated his 16th birthday and saw his young protégé emerge as an outstanding footballer.
Doherty retired as a player at the end of the 1952-53 season (just before his 40th birthday) but he had already taken on the part-time role of manager of the Northern Ireland national side, a position he held until 1962.
Doherty's main problem was that Rovers never quite enjoyed the attendances required to support his progressive policies or, more crucially, to allow him to hold on to his best players.
In December 1957 Rovers were forced to sell goalkeeper Harry Gregg, a player discovered by Doherty, to Manchester United for £25,000.
Doherty was upset by this decision, but in any case, his position was coming under threat. Rovers were second from bottom of Division Two in January 1958 and rumours abounded of disputes between Doherty and Hubert Bates member of the Rovers board.
On 20th January 1958 the club announced that Doherty had resigned to take up a similar post at Rovers' Second Division rivals Bristol City. His contract was believed to be of five years' duration, although he was only to stay for two years before being sacked.
He later worked for Notts County, Aston Villa, Preston, Sunderland and Blackpool in various capacities.
Perhaps his greatest managerial achievement was to take Northern Ireland to the quarter-finals of the World Cup in Sweden in 1958.
Doherty, who was a champion of players' rights and an opponent of the maximum wage, was in many ways a men before his time.
His departure from Belle Vue heralded a grim period in the history of the Rovers.
Doherty died in April 1990, aged 76.
Senior record with Rovers
First match: 20th August 1949 v Bradford City (away) won 2-1
Last match: 18th January 1958 v Stoke City (away) drew 0-0
Played 389, Won 133, Drew 109, Lost 147, Winning percentage: 34.2%