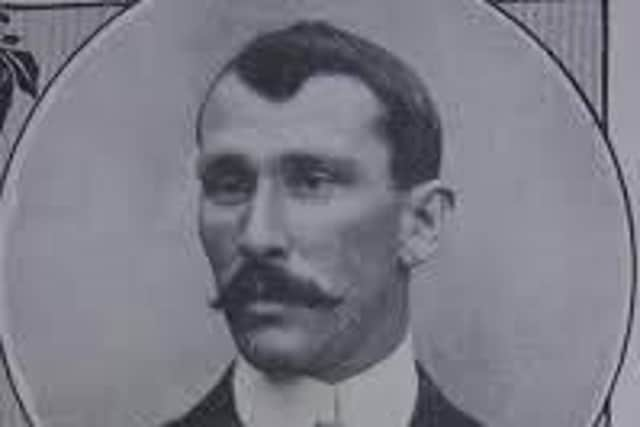 Jack Eggett
A native of Wisbech in Cambridgeshire, he joined Rovers, then in the Midland League, in the summer of 1894. The early seasons were difficult - despite an ambitious recruitment policy aimed at securing membership of the Football League, Rovers struggled in terms of results and finance. However, the 1896-97 season brought the Midland League title and Rovers followed up with another success in 1898-99.
Eggett was an integral part of both successes, playing in every Midland League game in both of the Championship seasons and having a pair of medals to show for his efforts. Although not particularly tall, he stood five feet, nine inches, he was fearless and combative, as a Rotherham Town forward discovered to his cost in November 1895. In a fierce FA Cup tie the striker, named Cutts, went in late on Jack and received a kicking for his pains. Jack was sent off and suspended for six weeks during which time Rovers did not win - he was that important to the team. He was also an immense character. Often to be found holding court in the Prince of Wales or the Hyde Park Tavern just before a game at the Intake Ground, he needed sobering up in order to play on more than one occasion. He also liked to join in the attack if things were too quiet at his end and he was rewarded with a goal in the Yorkshire League game with Huddersfield in November 1898 when he scrambled the ball home after a corner. That made the score 14-0!
Rovers were elected to the Football League on the eve of the 1901-02 season, following the collapse of the New Brighton Tower club and Jack became a league debutant at the age of 31. He helped Rovers to reach the respectable position of 7th in Division Two, which still represents their best League placing. In 1902-03 he missed only one game but must have wished he had avoided the one on 11th April 1903 when Rovers lost 0-12 to Small Heath, their worst league result. However, the local press considered that Jack was Rovers' best player and reckoned that he kept the score down!
Rovers were most unfairly ejected from the league at the end of the 1902-03 season, despite finishing third from bottom of the table. It was a severe blow to the club, which lost several key men including Jack, who decided to try his luck with Woolwich Arsenal. He failed to make the first team there, but in 1904 he moved to Southern League Tottenham Hotspur and was their first choice for two seasons. He then had a season with another leading Southern League team, Croydon Common, before finishing his professional career with Goole Town. Jack settled in Doncaster and in 1943, while taking part in a run in aid of war charities, he collapsed and died outside Pegler's' works in Balby. His league record does not quite reflect his contribution to Doncaster Rovers because he actually appeared in over 200 first team games for the club. Nor does it demonstrate the many afternoons of pleasure and entertainment he provided for supporters in those Intake days - both before and during the game!
Born: Wisbech, 19th April 1874
Died: Balby, Doncaster, 24th August 1943
Signed for Rovers: August 1894 from Wisbech Town
Left Rovers: May 1903, transferred to Woolwich Arsenal
Appearances: League 67, Cup 3