The 'Hooray for Hauliers' campaign celebrates the contributions of transport's key workers
Doncaster-based JMS Transport is at the forefront of a national campaign to recognise the unsung heroes of the haulage sector.
Tuesday, 16th March 2021, 4:00 pm
JMS Transport is a member of the Pallet-Track network which has launched its '#HoorayforHauliers' campaign to celebrate the role of all drivers who have kept Britain moving throughout the pandemic, as well as navigating Brexit on top of the day-to-day challenges of long hours and even longer distances to deliver for the nation.
The initiative, which is taking the form of '#Hooray for Hauliers' liveries on Pallet-Track member vehicles, is to fly the flag for Britain's transport and logistics workers.
JMS of Doncaster is proudly displaying the new #Hooray for Hauliers liveries on their vehicles as they travel thousands of miles making deliveries across their postcode areas and to all parts of the UK.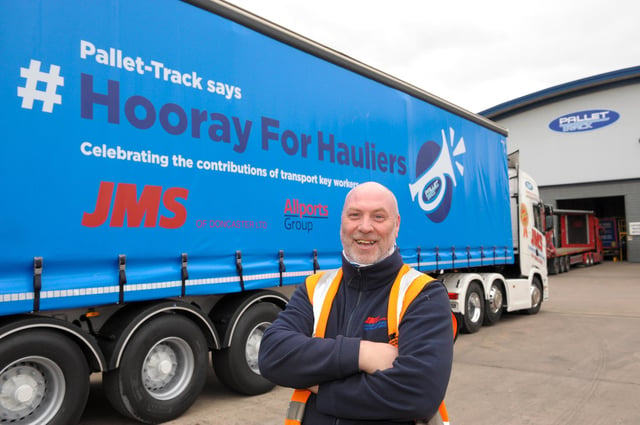 Neil Woodcock, a driver with JMS Transport, with his #Hooray for Hauliers trailer
MD John Sheard said: "This is a great initiative from Pallet-Track that we are happy to be part of and we hope that it starts a bit of a revolution as the sector needs a lot of support.
"It's been tough during the pandemic, but the ordinary life of drivers is pretty tough and unappreciated with long hours, often poor rest facilities on their journeys and a lack of secure parking – issues that should be kept in the public eye after COVID-19 because we need to drive home the fact that drivers are indispensable."
Nigel Parkes of Pallet-Track, said: "The pandemic has raised awareness of the key worker status of lorry drivers up and down the UK who had previously not enjoyed a high profile, resulting in the dramatic skills shortage that still threatens our industry."
In these confusing and worrying times, local journalism is more vital than ever. Thanks to everyone who helps us ask the questions that matter by taking out a subscription or buying a paper. We stand together. Liam Hoden, editor.