One way system for walkers at Doncaster's Lakeside blasted as 'stupid' and 'ridiculous'
A one way system for walkers taking a stroll around Doncaster's Lakeside has been blasted as 'stupid,' 'ridiculous' and a 'waste of money' by upset locals.
Monday, 19th April 2021, 9:40 am
Signs have been installed on the path around the lake urging walkers to follow a one way route – understood to be aimed at preventing the spread of coronavirus.
The blue direction signs, installed last week, have arrows indicating the way walkers should walk around the popular Doncaster beauty spot when they visit.
But the move has been criticised by walkers who have been left baffled by the signs.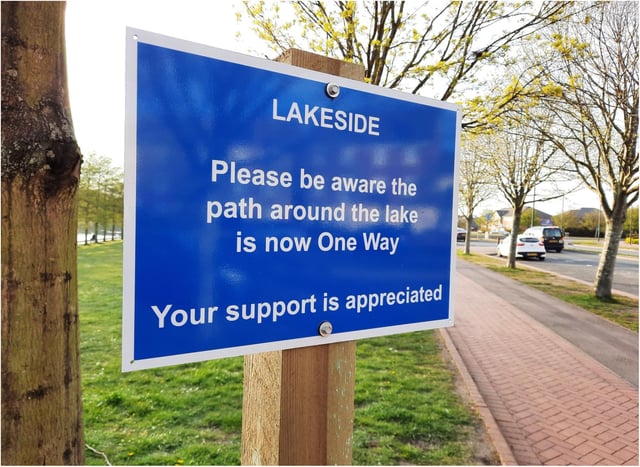 The one way signs have been installed at Lakeside.
Vivienne Bell wrote on Facebook: "I will be going the way I've always gone, what a ridiculous idea."
Tom Chambers posted: "Complete waste of money and stupid idea. I'm on there daily with my dog and daughter and there many elderly people who use small sections of the lake to walk a little then turn back because they are unable to walk all way round."
Mark Collins added: "Absolutely agree - waste of time, resources and money! What if you're not completing a full lap?"
Steve Wake posted: "Yup world gone mad - start and finish line next" while Louise Wollerton wrote: "We needed this last summer when the area was packed. Seems a bit late now."
Walkers are being told which way to walk.
Rachael Elizabeth Illingworth added: "People haven't been able to follow government guidelines for the past year during the pandemic they're not going to take any notice of those."
Debbie Froggatt wrote: "Good luck. I go every day and people will continue to walk the way they want."
The lake has become a popular spot for walkers during lockdown, but there have been a number of criticisms of measures introduced in the area over the last 12 months.
We have contacted Doncaster Council for further details.