There's a weekly Nerf gun club for children coming to Doncaster
Blasters at the ready – there's a weeky Nerf gun club for youngsters coming to Doncaster!
Watch more of our videos on Shots! 
and live on Freeview channel 276
Visit Shots! now
Scawthorpe Community Centre will host the weekly sessions where youngsters will be able to take part in fun and games with the popular toy weapons range, where participants blast each other with soft foam darts.
Organised by Active Future Doncaster, the first session will take place on Novmber 29 from 4.45 to 5.45pm.
A spokesman said: "After so many requests, we have decided to run weekly Nerf clubs.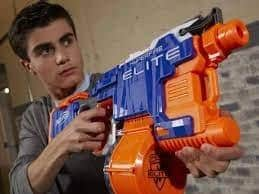 "In our quest to get more children and young people active, what better way than to invite children and young people to a weekly Nerf club?
"Active Future has been established to increase the likelihood of lifelong participation in movement.
"What we know is that by aged 16, 80% of children and young people have left movement and sport never to return again.
"We already know that children and young people love taking part in Nerf and we also know that the movement at our events is huge.
"Children can come and take part in weekly battles and who knows, may be able to compete against other areas where clubs are running.
"So whether playing Speed Battles, Solos or Protect the President, we will have a blast on a weekly basis in Doncaster."
Organisers are awaiting confirmation from other venues to extend the clubs.
To register your interest simply click the link below and fill out your no obligation firm and organisers will be in touch
The toy brand was formed by Parker Brothers and currently owned by Hasbro.
Most of its toys are a variety of foam-based weaponry, with other Nerf products including balls for sports such as American football, basketball, and baseball.
Their best known toys are their dart guns (referred to by Hasbro as "blasters") that shoot ammunition made from "Nerf foam" (partially reticulated polyether type polyurethane foam).
Their primary slogan, introduced in the 1990s, is "It's Nerf or Nothin'!".
Nerf issued the first foam dart blaster in 1992. Over the years, Nerf has continued to expand the line, adding new looks to existing products, with later lines of Nerf products ranging from sport balls and foam dart blasters to video games and accessories.