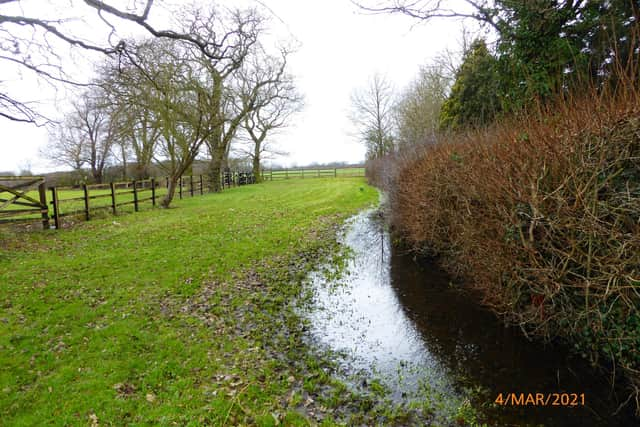 Water logged field on Fenwick walk
Today we had several dog walkers, a mum and her newborn, two teenagers and a host of solos. One local commented "Usually there's half a dozen people a year along here, now there's that many each day". You can see why.
The message that walking is good for your wellbeing and the outdoors the perfect respite from lockdown is getting through.
You don't need to tell us, we've known that for years at the Ramblers.
Access right over a dyke and under a bridge, has been removed
Today's walk began as a five and half mile amble through the fields and lanes near Fenwick but ended up as seven miles due to a major impasse at GR SE590171 but more of that shortly.
The route combined field edges with wide grassy byways and some (enforced) quiet country roads.
From the junction of Shaw Lane and Fenwick Lane head through the farm yard taking care not to miss the stile on the left after 100m. Continue in the same direction crossing the railway line (with care) then 370m further on where there should be access right over a dyke and under a bridge, this has been removed so continue north for 940m to Lowgate. Turn right and follow this quiet country lane for one a a quarter miles.
At a finger post turn right, now happy to be back on a public right of way, open fields on both sides and way markers showing the route. Turn left at the T junction and climb the embankment.
One mile later you reach Topham Ferry Bridge and see the familiar blue signs of the Long Distance Trans Pennine Trail. Follow this first left then right and continue south for 540m but where it veers right continue straight. Stay on Bates Lane then on into West Lane. This is quite a busy road, so please take care.
Eventually as the road bends left there is a footpath ahead, follow this west without deviation for just over a mile to exit onto Shaw Lane. Follow this for 650m back to the start.
Rambler outings. Remember while out observe social distancing, carry a mask, hand sanitiser, and gloves. Obey the Countryside Code and give way to other walkers.
All the walks are led by Ramblers leaders and there is always a backmarker.
In these confusing and worrying times, local journalism is more vital than ever. Thanks to everyone who helps us ask the questions that matter by taking out a subscription or buying a paper. We stand together. Liam Hoden, editor.