Disney on Ice skaters inspire young fans to become future stars ahead of shows at Utilita Arena Sheffield
WHEN you wish upon a star your dreams come true - just ask Callum Leach and Sean Parry.
Watch more of our videos on Shots! 
and live on Freeview channel 276
Visit Shots! now
Once upon a time, as youngsters, they watched in awe as Disney On Ice brought its colourful spectacular arena world tours to the UK.
Now, like a real-life fairytale happy ending, they are skating in the spotlight with the likes of Mickey and Minnie Mouse, Frozen's Elsa and Woody from Toy Story.
As the Brit skaters prepare to thrill audiences, as part of Disney On Ice presents 100 Years of Wonder, at Utilita Arena Sheffield - November 30 to December 3 - they took time out to inspire other boys and girls wanting to be tomorrow's stars of the show.
"Persistence is the key. I started skating at 10 years old, so if I can do it, anyone can. Just keep going. One day you'll be with me on the ice," said Sean Parry, aged 24, from Kinmel Bay, near Rhyl, in North Wales.
Sean added: "I tell people it's a dream come true to be in the show. It sounds really cheesy, but it's really difficult to put into words. I couldn't imagine doing anything else. It's just a truly incredible experience."
He is an ensemble skater with appearances in the show opener and Anna and Hans engagement segment in Frozen and says stepping into the sparkling, glitzy costumes, helps him to transform into a Disney character.
"When you put the costume on you really feel like you're actually part of the show. It's like a work uniform and you just want to give your absolute best for everyone in the audience.
"The costumes are important because they really set the pace, the vibe and look of the show. Bright colours bring the energy out right from the start."
Disney On Ice, promoted by Feld Entertainment, signs up world class skaters from around the globe. Callum Leach, aged 31, from Newcastle, said: "It's a great experience. It was a dream of mine. I always went to see the show every year, when I was younger.
"I've toured around America and most of Europe and Asia and the Middle East.
"But nothing beats a UK crowd. The audiences are amazing. And it's so great to see the kids out there having the time of their life.
He is also an ensemble skater, who will be on the ice in the Frozen coronation scene and as a cowboy in the Toy Story round-up segment.
Callum explained how not only the costumes but the amazing props help to bring the show alive. He said: "The props, from cheerleader pom poms used in the opening scene, to introduce Mickey, Minnie and Goofy, to the broom sticks from Fantasia - they all get a great reaction and help to make the show so amazing."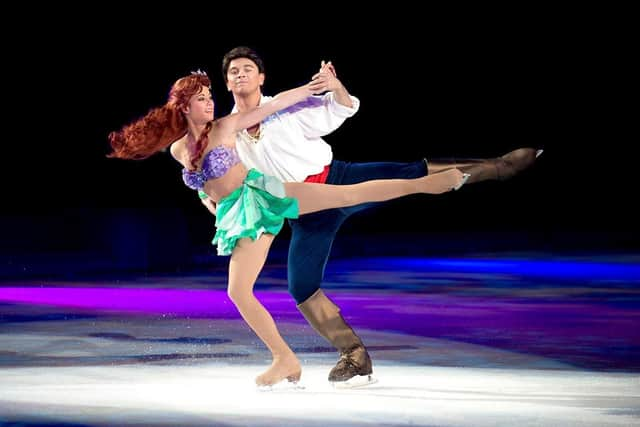 Stars like Callum and Sean rehearse for more than 550 hours to perfect each performance and encapsulate the characters, while a team of choreographers, set and costume designers create around 181 props and 250 different costumes - which take thousands of yards of fabric to make.
The stunning costumes, props and the magical set for Disney On Ice presents 100 Years of Wonder is transported in 19 trucks from city to city, taking approximately 10 hours to set up.
Breathtaking choreograph, dazzling special effects and incredible stunts from world-class skaters are also guaranteed to take families on a magical journey, through a century of Disney enchantment.
The latest show celebrates the 100th anniversary of the launch of the Disney company, sharing memorable moments from treasured tales including Frozen, Toy Story, Fantasia, Finding Dory, Moana and Encanto – joining the show for the very first time in the UK.
Keri Jones, tour manager of Disney on Ice Presents 100 Years of Wonder, said the production is more than a show - it's about making memories.
She said: "We love to see children coming dressed up as their favourite Disney characters. I like to come out and take a peek every now and then. You see parents aren't always watching the show because they're filming their children. The reactions of the children, when their favourite character comes out, is priceless.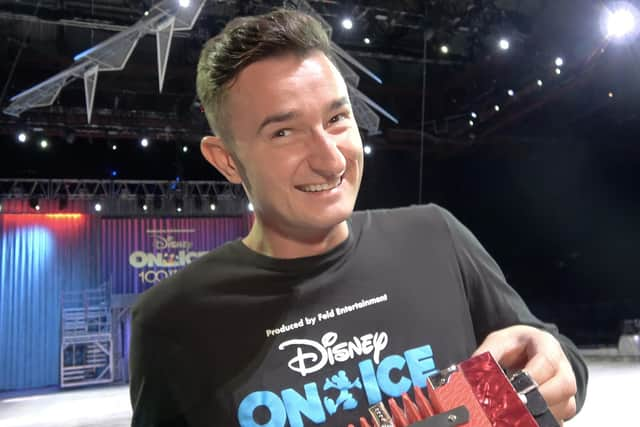 "Right now, we're worried about the weather and all sorts of things going on. This is two hours to forget about all of that. Great music and great entertainment."
Keri added: "This show is special for many reasons. We are the first Disney on Ice show to bring Encanto outside of the United States. It's so colourful. We all know how popular the music has been with the kids.
"We also have more aerial acts in our show this year than we've had before, which is super exciting for the audience. You can always hear the gasps as it happens.
"And of course, it's 100 years of Disney. And we're very lucky that we have a small segment at the top of our show where you will actually get to see Mr Disney himself and his initial drawings of that very special mouse."