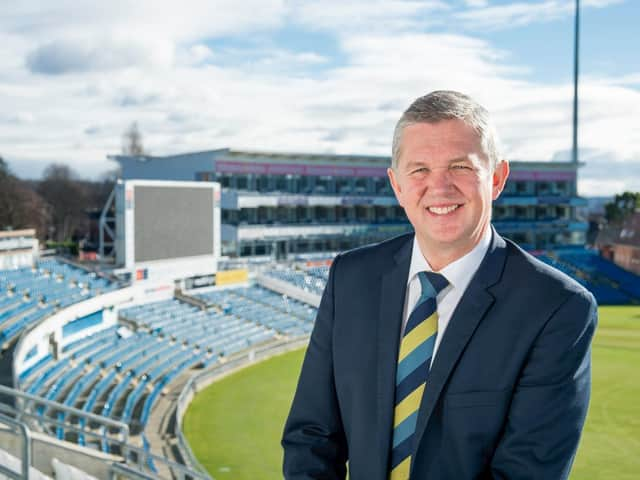 Mark Arthur at Emerald Headingley
The England and Wales Cricket Board is modelling potential schedules based on whether the season can begin in June, July or August.
The governing body has already stated that it will prioritise money-spinning white-ball games to help struggling counties, which means that the T20 Blast will be top of the agenda.
It is still hoped that some form of County Championship will be possible, although it depends on the length of the lockdown.
The 50-over Cup is likely to fall by the wayside owing to the lack of time available, along with the inaugural edition of The Hundred with which it clashed anyway, with the 100-ball tournament set to start next year.
Arthur is hopeful that we will see some cricket this season and said: "Once we do get playing again, I think it will be a case of absolute wall-to-wall cricket.
"The attitude will be to try and get in as much cricket for the members and spectators to enjoy as possible.
"At the moment, we don't know what the schedule is going to look like, of course, but, from a domestic point of view, the order [of priority] will be the T20 Blast and Championship cricket, which could dovetail together.
"So you may have a situation – and it's only guesswork – where you've got four days of Championship cricket followed by two days of T20 Blast cricket, followed by four days of Championship cricket, and so on."
Half of the Championship programme has already been lost, with cricket in abeyance until at least May 28 because of the coronavirus crisis.
There is even talk of the season being extended beyond September and into October so that clubs can generate as much revenue as possible.
Arthur believes Yorkshire are well-equipped to deal with any glut of fixtures considering they have a sizeable squad. The club has put all 32 of its players on furlough along with all cricket staff apart from director of cricket Martyn Moxon and cricket operations manager Cecilia Allen, as well as most of its non-playing staff.
"We've got a squad of 30, so we've got the flexibility to cope with a large number of fixtures," added Arthur.
"It might be tougher for some of the smaller counties, but we've been geared up for losing players for The Hundred anyway, so I don't think it would affect us so much.
"If it turns out that we are trying to fit a quart into a pint pot, which I think is what will happen, then with a squad of 30 players we're well-situated really.
"But exactly how much cricket we're going to get, and when it will be able to start, is, of course, still up in the air."
If the season is extended into October, Arthur believes that the ECB may take the weather into account when scheduling games.
It is normally a degree or two warmer 'down south', which could see Yorkshire away from home more towards the end of the campaign.
"Again, it's all up in the air, but if we do end up going into the month of October, then it may be that the fixtures are geared more towards the southern counties playing at home in the latter part of the programme," added Arthur.
"I think one of the southern counties – I think it was Essex or Kent – said that they had less rain in October last year than they did in July, so that sort of thing could be factored in.
"At the moment, we just want to play anywhere and for cricket to start as soon as it can.
"Obviously, though, there are more important things to consider at the moment and the ECB will be guided by government advice."
Arthur believes the ECB is doing an excellent job at a difficult time, with the governing body having already put together a £61m bailout package for the county/recreational game. Yorkshire are receiving one-quarter of their annual central distribution up front (believed to be around £875,000) to help with cash flow, while they are also saving money through the government's Coronavirus Job Retention Scheme, whereby they can claim 80 per cent of the monthly salary of a furloughed staff member up to a maximum of £2,500.
Tom Harrison, the ECB chief executive, has stressed that white-ball cricket will be the priority once the government gives sport the green light.
"Securing the future of the game will be a primary focus as we plot a revised schedule with an emphasis on the most financially important forms of the game for the counties across international and domestic cricket," he said.
*Yorkshire have shot down a national newspaper report claiming that Emerald Headingley will be one of just three international grounds used by England this summer as they seek to manage the fallout of Covid-19.
The Daily Telegraph reported that England are planning to play all their six Tests, six one-day internationals and six T20 internationals at Headingley, Old Trafford and the Ageas Bowl in an effort to salvage as much of their schedule as possible.
The report stated that those venues had been selected because they all have on-site hotels and training facilities and could provide "bio-secure" environments for games behind closed doors.
But Yorkshire say that it is news to them and that they have had no conversations with the England and Wales Cricket Board concerning what would be a radical change to their own fixture programme.
"I don't know anything about it at all," said chief executive Mark Arthur.