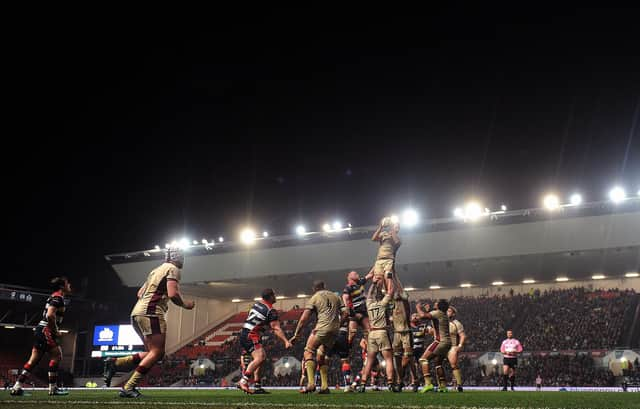 Doncaster Knights in action at Bristol in 2018. Bristol now lead the Premiership. Photo: Harry Trump/Getty Images
The RFU council announced last month that it has scrapped relegation from the Premiership this season – a bold move but, in Covid times, perhaps understandable.
However, what has caused plenty of debate is how the governing body also declared that promotion and relegation between the top division and the Championship could be put on hold for "three or four years" as it reviews the sport's calendar.
Does relegation need scrapping for good or is movement between the two leagues still essential?
By Dave Craven – it's short sighted and a massive blow to the game as a whole
The day in 2017 when Doncaster Knights announced they would not accept promotion to the Premiership, even if they won the Championship final, was a sorry one for all who love rugby union.
To rise and rise again through the leagues, as they had, fighting tooth and nail to get to the verge of the very zenith of the game only to have to pragmatically concede it cannot actually "afford" to make the final step, it should have rung alarm bells up and down the land.
Unfortunately, the frank admission from owners Tony De Mulder and Steve Lloyd barely caused a ripple.
Four years on, the future of professional rugby union here still remains opaque; everyone is still hanging on to "if" rather than "when".
Let's not forget, the benevolent duo are wealthy individuals who have invested millions of pounds into the South Yorkshire club over decades.
But back then, and as now, they knew it just wasn't a level playing field for the promoted side – especially one with no previous Premiership experience – and the financial implications for a team who would need to avoid an immediate relegation were vast.
Four years on, matters are actually worse, given RFU funding to Championship clubs has been slashed so drastically that it stands at around a 10th of the parachute payment to the relegated club.
It is no surprise more Championship clubs have turned to semi-professional status but none of this is any reason to ring-fence the Premiership and cut the second tier adrift.
The question should be how the Championship can be better funded to give clubs a more realistic chance; if action had been taken four years ago, maybe we would be there now.
Obviously, turkeys will never vote for Christmas and it is understandable why Premiership clubs have done their utmost to safeguard their own financial strength. Nevertheless, ring-fencing the top flight would be short- sighted and a massive blow for the future of the game as a whole.
There has to be that ability to aspire for greater things, otherwise what is the point?
If promotion is off the table, the Championship will only disintegrate further and that will only be damaging to the game in the long run; it is well-documented just how many elite players and internationals have cut their teeth in the second tier.
If it is left to rot, that player pathway will disappear.
Nurture it and there can be a flourishing second tier; the sport should aim for a Premiership Two rather than cascade back towards amateurism.
With Ealing Trailfinders, Doncaster, Cornish Pirates and Coventry, there are plenty of clubs with ambition if the conditions are more helpful.
Many of them are well-set regards stadia and, although all average crowds of less than 2,000, each would rightly argue they have latent support ready to tap into given the profile lift promotion would bring.
Moreover, like it or not, relegation inevitably brings drama and it is no surprise BT Sport – the broadcasters helping feed all the Premiership clubs with their fees – want to retain it.
There is talk of a three-year licence system to give aspiring Championship clubs hope of being admitted later but you need only look at Super League's aborted attempts at that to realise it is often beset with its own issues.
If it ever came in with the Premiership, it would probably just mean the fence got taller.
By Nick Westby – promotion and relegation no longer a viable proposition
Part of me feels bad for suggesting this given I have covered Rotherham Titans, Leeds and Doncaster Knights over the last 18 years, but the time has come to end any hopes they had of joining the Premiership.
None of those three has the resources, infrastructure or the financial or supporter backing to be a Premiership club.
If they had, they would have found it by now. They've had long enough, and in the case of Rotherham and Leeds, enough chances.
Doncaster have developed an infrastructure and have positioned themselves as the county's standard-bearer, but in 2017 a year after getting to the Championship promotion final, they declared they would not be in a position to take their place in the Premiership had they won through a semi-final then a final.
Beyond these borders, the Championship has been operating as a semi-professional league for years, the only consistent professional element being the teams that come down from the Premiership and usually stay for a season.
Ealing Trailfinders are throwing money at it at the minute, Cornish Pirates have a case to be made, but otherwise, the second tier consists largely of clubs paying players as little as £15,000 a year – neither party can claim that is professional.
Through recent history, when there are clubs that break the pattern of relegated teams bouncing straight back up, there are as many tales of woe as there are those of hope.
London Welsh went up in 2012 and then went bust trying to get back there after going straight back down.
Leeds Tykes were in the top flight for a long time but once they lost their footing, save for one season when they survived and then aimed too high, they yo-yoed between the divisions and nearly went to the wall two years ago.
Their fate is what frightens the life out of the Newcastles and Worcesters of this world; Worcester being the last team to finally get up for good in 2015 and stay there. Exeter make the strongest case in the argument for promotion and relegation, but they are the exception.
So if it's a ring-fenced division, how will that look? How do you keep it competitive?
A strict salary cap to start with, not one easily broken by the likes of Saracens.
Start with 13 clubs including Saracens and set the league for three years, giving the likes of Ealing time to build towards either joining an expanded league or replacing a perennial struggler in the Premiership.
Scrap the cup competition but expand the play-offs to eight teams, but not only that, to keep teams positioned ninth to 13th interested as long as possible, ape the model basketball's NBA is testing this season whereby teams one through six qualify automatically, then teams seven to 10 contest a one-off play-in tournament; seventh hosts 10th, eighth hosts ninth.
The winners complete the seeding for the play-off quarter-finals to be played over two legs, first v eighth and so on.
To keep alive the hopes of players in the Championship playing in the Premiership, hold a draft every close season in which the 13th-best team gets to pick the best player in that season's Championship, the 12th-placed team the second best and so on.
Teams don't have to pick if they don't want, but the Championship club is compensated for the loss of a player, the higher the draft pick the higher the fee.
It is radical, I admit, but, after looking at the two leagues for the last decade and a half, promotion and relegation no longer works and does not represent a viable financial future.