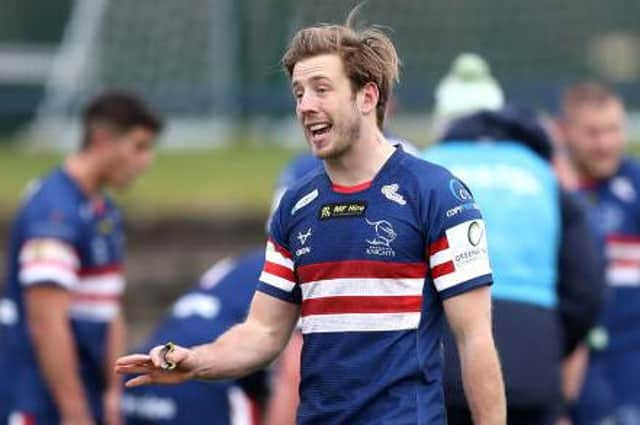 Sam Olver. Photo: George Wood/Getty Images
The Knights are now second and full of confidence as they prepare for their next contests against Jersey Reds and Saracens, the former European and Premiership champions, both of which are at Castle Park in a fortnight and three weeks, respectively.
The squad assembled by new head coach Steve Boden is not just highly competitive because of its talented players, but knows how to win tight and tense matches which Doncaster have experienced in all their games involving Ampthill, Coventry, Hartpury and Pirates, arriving at Castle Park also with three successive wins.
The outcome of this encounter, in which both teams scored two tries, was decided by Knights' fly-half Sam Olver, enjoying a splendid match in all departments.
Late in the second half with Pirates leading by one point at 15-14, Olver was given the opportunity to put his team in front.
His accurate penalty on 75 minutes, following earlier tries by flanker John Kelly and centre Connor Edwards, both converted by him, gave Doncaster the lead at 17-15 for the first time since the seventh minute.
Just when it appeared that the Knights were the winners, Pirates attacked and once Doncaster were penalised again in the 78th minute, it seemed that the opposition's reliable goal-kicker, fly-half Will Cargill, would be successful and seize victory.
The angle from the touchline did not seem too awkward, but Cargill's kick just missed the target, allowing Knights to survive.
Doncaster were left celebrating victory, one which was earned by solid graft, not least by forwards such as Matt Challinor and the back row of Kelly, Sam Graham and Guido Volpi.
Considering that in the first half they were reduced to 13 men for a period after rapid yellow cards against second-row Jerry Sexton and then Volpi, Doncaster's win also owed much to stubborn defending as Pirated failed to build on their 12-7 advantage.
Doncaster Knights: McBryde, Evans, Foley (Best 56), Edwards, Spittle, Olver, Warr (Mitchell 58), Hislop (Cade 64), Hunter, Denman (Jones 46), Challinor (Britton 64), Sexton, Kelly, Graham (Joyce 56), Volpi.
Cornish Pirates: Wyatt, O'Meara, Parata, De Battista (Tucker 28), Holden, Cargill, Bruzulier, Walker, Frost (Channon 64), Tyack (Rodman 64), Lemalu (Bolwell 64), Cutmore, Caulfield, Stevens (Kiri-Kiri 51), Duncan.