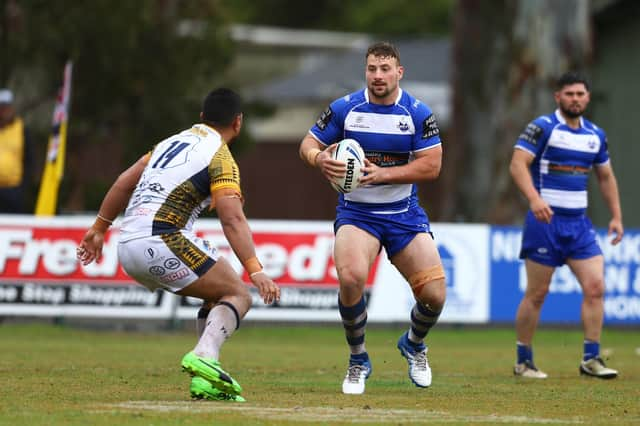 Stefanos Bastas, formerly of Doncaster RLFC, pictured in action for Greece, who will be in action at the Keepmoat Stadium at the 2021 Rugby League World Cup.
Bastas played for Doncaster RLFC in 2019 and also had a trial at Sheffield Eagles.
Amid a backdrop of turmoil, Greece have qualified for the World Cup for the first time.
And, for Bastas, a quirk of fate will see them tackle England at Bramall Lane as well as facing France and Samoa at the Keepmoat Stadium.
The 27-year-old has spoken of his pride and excitement ahead of the tournament, which starts in October.
What will it be like playing in Sheffield and Doncaster, places you have lived, at the World Cup?
"I've passed by Bramall Lane many times and always thought it would be nice to play as a stadium like that.
"Playing England at Bramall Lane will be such a special occasion for our nation, I know the atmosphere will be electric, I'm still in shock that it is going to happen.
The Keepmoat Stadium will host three World Cup group games. Photo: Getty Images
"We also play at the Keepmoat in Doncaster where I have actually played before and know well. These places are like a second home to me, so on a personal level it will be even more exciting.
"We play France in Doncaster which will be an amazing test for me, as I currently play my domestic rugby league in France, so I have a lot of banter with my French teammates about this match up."
What has been your rugby league journey to date?
"It started whilst I was studying at university, we had rugby training sessions and I fell in love with the sport from there.
"I began playing for Rhodes Knights which was originally a union team but for the last seven years it has transitioned into a rugby league team.
"I gained my first international cap for Greece whilst I was at Rhodes at the age of 19 but I moved on from Rhodes after I finished my studies.
"I wanted to test myself so I moved to England, where the Hemel Stags signed me and I gained a lot of experience. I established myself as a League One, semi-professional player, and got the chance to train pre-season with the Sheffield Eagles, which improved my game a lot.
"I then chose to sign for Doncaster who were in League One and played a full season for them. In the off season I played with an amateur club, Sheffield Hawks, and really enjoyed playing for them.
"At the end of the 2019 season, after being released by Doncaster, I moved to France and signed for Villegailhenc-Aragon, where I got the chance to be coached by former New Zealand international Vinnie Anderson.
"It was a great experience, a very different culture, but the same passion for the sport as in England. I now play for the Saint-Gaudens Bears in France.
"My whole journey has been very accidental, getting into the sport was completely accidental and even my choices to move to England and France were both very spontaneous. However, I have enjoyed every minute of my journey and wouldn't change it."
Do you think the RLWC21 can provide ambition and inspiration for domestic players?
"When I received my first cap for Greece our goal was always to play in a World Cup as we want to compete with the best teams.
"It will be very unique for a nation like Greece to play against teams with over 100 years of experience. Hopefully we can perform a shock in the tournament.
"It's such a great opportunity for our nation and I hope we grab it with two hands."
What has been the situation for domestic rugby league in Greece, and what opportunities has the RLWC21 presented?
"We have had some leadership issues with previous chairmans of the board within the Greek setup, as they tried to use Greek international rugby for their own financial and political gain instead of helping to grow the game.
"Due to the competition structure placed by the previous governing body we weren't able to play certain games, which made it very difficult for us to progress as a national team.
"We were stripped of our chance to play in the previous World Cup due to the wrongdoings of our previous chairman, which makes me really angry.
"But this also shows how we have now grown as a nation, as this corruption is now over with our new governing body and we look forward to the future.
"Our two final qualifying games against Scotland and Serbia were the two biggest games in our nation's history.
"Knowing that if we won one of two games that we would qualify, put a lot of pressure on our shoulders, but it was a very special moment.
"If we lost both of those games Greek rugby league may have drowned due to financial backing of the sport.
"But the job was done and the sport is now in its best ever place."
How does it feel to represent your nation?
"It is such a unique feeling. I can feel the flag on my chest every time I represent my country and am filled with so much pride and honour.
"The moment we stand and sing the national anthem never gets old, I have the same feeling of amazement every time it happens."