RFU Championship: Doncaster Knights' unbeaten start comes to an end with heavy defeat at Coventry
Doncaster Knights suffered their first league defeat of the season as they were heavily beaten 51-7 at Coventry.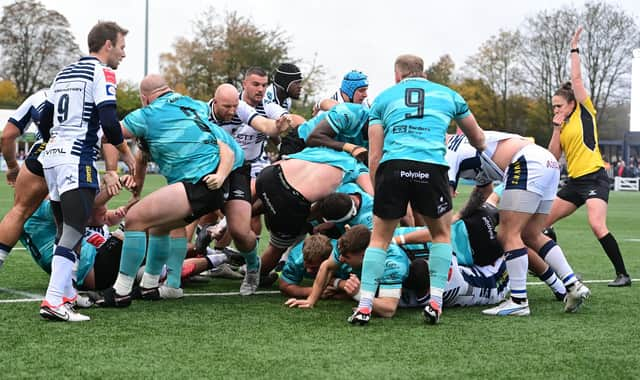 Knights had started their 2023/24 RFU campaign with three wins from three but had no answer as Coventry put on a show in front of 3,470 fans at the Butts Park Arena on Saturday afternoon.
The hosts were straight on the front foot and scored through Will Rigg following their first spell of pressure with less than two minutes gone.
Knights' response was positive and a driving maul got them on the scoreboard six minutes later.
The try was attributed to George Roberts and converted by captain Sam Olver to briefly put Doncaster 7-5 ahead.
But that was as good as it got all afternoon for Steve Boden's men.
The momentum quickly swung back in the hosts' favour as Coventry regained the lead through Will Wand after opening Doncaster's defence up with some nice handling.
Coventry extended their advantage further with a Pat Pellegrini penalty, then cut Doncaster's all-too-passive defensive line open again to establish a 15-point lead.
This time James Tyas was on the scoresheet with Pellegrini converting again.
Knights had the ball on the line on the strike of half time in a rare attack but couldn't force their way over for a much-needed score.
Coventry cleared and went in at the break 22-7 ahead.
Another fast start after the interval saw them bag a bonus point just two minutes into the second half.
A second for Rigg, converted by Pellegrini, made it 29-7 and gave Doncaster an even bigger mountain to climb.
Relentless Coventry were soon further ahead through Jimmy Martin with Pellegrini adding the extras as the deficit stretched to 34-7.
Tobi Wilson compounded Knights' misery shortly after the hour mark when he produced some nice footwork to run in his side's sixth try.
Pellegrini's simple conversion from underneath the posts made it 41-7 before Doncaster's Harri Morris and Coventry's Jordon Poole were both sin-binned following a 65th minute brawl.
That made little difference to the trajectory of the game as Ryan Hutler raced over the line moments later with Doncaster's attacking threat non-existent.
Pellegrini missed his conversion, but that mattered little as Lucas Titherington scored at the death to earn his side a comprehensive 51-7 win – their biggest ever over Doncaster.