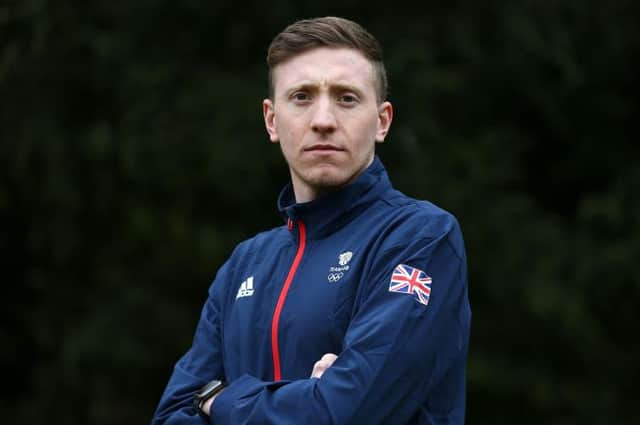 Max Litchfield. Photo: Alex Pantling/Getty Images for British Olympic Association
Litchfield is set to compete at his second Olympic Games this summer after being named in Team GB's initial 28-strong squad alongside his younger brother Joe.
Max, 26, was a finalist in the 400m individual medley in Rio and is a former European Championship medallist.
Both brothers, who hail from Pontefract, swam for Doncaster and then City of Sheffield before moving to the high performance centre at Loughborough.
Max Litchfield, pictured competing at the 2021 British Swimming Selection Trials at the London Aquatics Centre. Photo: Clive Rose/Getty Images
Max says his club swimming days carved him into the swimmer he is today and helped him make 'lifelong friends'.
He has also urged youngsters to make the most of lockdown easing by joining a sports club.
"I learned to swim when I was about four or five. My mum and dad took myself, my brother and my sister just as a good life skill," Litchfield told Swim England.
"Then my first proper club was Minsthorpe Marlins. I moved there from the place I learned to swim, which was called Lightwaves in Wakefield.
"I moved to Minsthorpe Marlins for a couple of years before I eventually moved on to Doncaster Dartes, which was my first big club that I went to.
"The club environment that I was in was just built for swimming and it helped me hone those skills down that have made me the swimmer I am today," he added.
"Without those foundation stages where you've got people guiding you in all different areas, you can't get to a point where you can develop and swim. I think both my first and second club were massive in that."
Litchfield revelled in the team environment and is still in contact with some former Doncaster teammates.
He said: "I think it was just being in an environment with friends that you could train with and make those connections with other people that enjoyed swimming, and just have fun at the same time.
"The fact that you can go and you've got so many other people there that are doing the same thing as you, and love doing the same thing as you, and you just build those connections up.
"There are still a few friends that I've got from my second club that I still keep in contact with and I think it is amazing that you can make those connections and have those friends that potentially could be lifelong friends."
Litchfield had a message for all athletes, no matter what discipline or sport.
"Even if it's not swimming and it's another sport that you enjoy, whatever it is, if you enjoy it, go to a club," he said.
"Especially after things like lockdown, it's amazing to have that interaction. We don't realise how much that interaction actually helps us and helps us grow.
"Definitely, if you want to join a swimming club or a football club or whatever, then for me – go for it!
"I wasn't [at my first club] that long but without those guys I wouldn't have ever got the chance to go on to Doncaster.
"Then without Doncaster I wouldn't have had the chance to go on to Sheffield and then to Loughborough.
"It's all a process and no matter how small or big your first club is, it's massively important for the rest of your career."