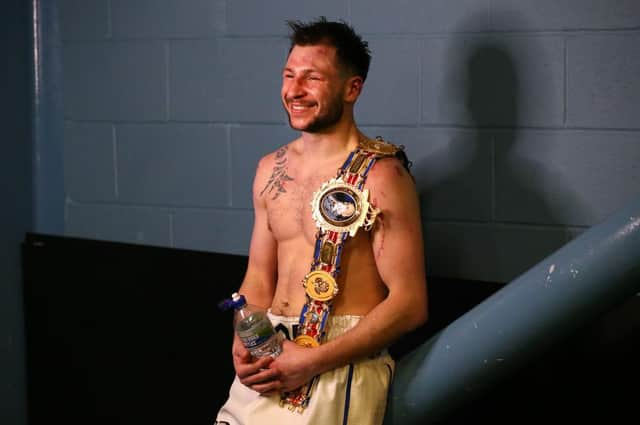 Maxi Hughes is interviewed after victory over Paul Hyland Jnr. Photo: Alex Livesey/Getty Images
Rossington fighter Maxi Hughes did exactly that – and he got his rewards by winning a British title at the third time of asking in Bolton on Friday night.
The 31-year-old came close to quitting boxing three years ago following a punishing defeat to Sam Bowen.
But Hughes' confidence has gone through the roof over the last 12 months thanks to eye-catching victories over Jono Carroll and Viktor Kotochigov.
Maxi Hughes throws a shot at Paul Hyland Jnr. Photo: Alex Livesey/Getty Images
He capped a remarkable turnaround in his fortunes by stopping Belfast's Paul Hyland Jr in the eighth round – albeit in bizarre circumstances – to finally get his hands on the Lonsdale Belt.
Hughes had previously lost British super featherweight fights against Bowen and Martin Ward.
After defeating Hyland, Hughes was asked about why he almost stepped away from the sport.
"It was after the Sam Bowen fight," he told iFL TV.
"It had been a hard camp, I didn't particularly enjoy the camp – I felt it really took it out of my body making super featherweight – and then Sam punched the life out of my stomach and I felt like my guts were upside down.
"My wife was pregnant with our daughter, and I think I was just burnt out mentally.
"Because I'd just lost again I was down in the dumps and I didn't believe in myself. I didn't believe I was going to get stuff like this [British titles].
"But after six months out I thought to myself 'I am good enough, I can win something'.
"So I got myself back in the gym, carried on and got the fight with [Liam] Walsh [for the WBO European lightweight title]. That didn't go my way but the overall performance was good.
"I came up a bit short but I chatted with Liam afterwards and he picked me up actually, even though he'd just beaten me. He told me to hold my head up high.
"Travelling back up from Bethnal Green and talking about the fight, by the time I'd got home I'd got over it. I was in a positive mindset and I told myself 'I am good enough' and 'I'm going to get back into that gym and keep practising'.
"That obviously led us into last year. I had a hell of a year despite Covid and now I've gone from strength to strength. Now look where we are at the start of 2021."