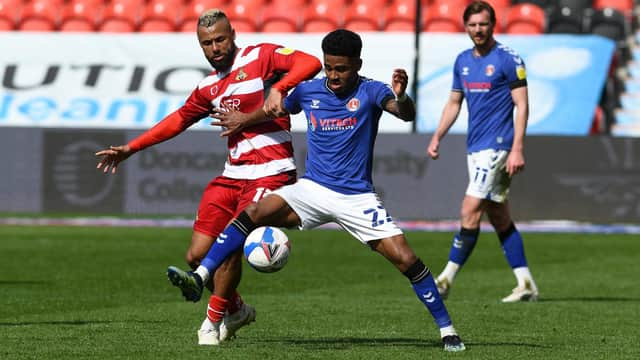 John Bostock battles with Charlton goalscorer Ian Maatsen. Photo: Andrew Roe
Here's what former Rovers defender Mills and Parkin had to say at half time and full time…
Half time
Mills: "They [Rovers] have been pretty on the eye but, for me, it's been a little bit boys versus men at times.
"Charlton have just been really diligent and organised and strong.
"Doncaster have played pretty but the front three are coming towards the ball far too much.
"The one opportunity they [Rovers] do get is when they try and go in behind and pick up the bits. I think they're being a bit predictable at the minute Doncaster.
"I feel Charlton are almost luring them into a false sense of security. They drop into a nice shape, nice and compact, letting Doncaster spread out play with the ball and then when they nick the ball there's gaps to play, get the ball forward quick and get on seconds [balls]."
Full time
Parkin (after being asked if Charlton were ever really tested): "Not really. I thought it was a brilliant job well done by Charlton. You could see exactly what they had worked on over the last week, two weeks. They were really diligent defensively.
"They probably went a little bit more longer than they want to but Doncaster almost enabled that to happen because they didn't change.
"I felt that the way that Charlton were bypassing the midfield maybe Doncaster could've changed tactically a little bit earlier in the second half.
"I'm looking at it thinking 'get another striker on there alongside Bogle'. He's someone who looks bereft of confidence right now. Get someone playing closer to him. Even when Richards came on I thought he was a little bit too deep.
"It was a comfortable second half for the visitors."
Mills: "I played centre half my whole career and when you're sat in that low block and you're nice and comfortable and the ball is being played around there's no danger.
"But if a team mix it up, just for five minutes, I'm not saying go against your principles but just turn it in behind. When the ball comes into midfield spin it in behind.
"The next time the ball comes into a midfielder the Charlton back four are going to be thinking 'is he going to put it in behind?' Then they drop off and then all of a sudden you can start playing it to feet again.
"It was just too pedestrian and too predictable from Doncaster.
"Charlton, on the other hand, extremely diligent, great shape and you've got a manager in charge who knows how to win and get promoted.
"That's what it looked like today. It looked like men versus boys."