Keepmoat Stadium to welcome back fans - what are the rules for spectators?
Fans will return to the Keepmoat Stadium for the first time in 14 months this weekend.
Friday, 21st May 2021, 6:00 am
Updated
Friday, 21st May 2021, 2:11 pm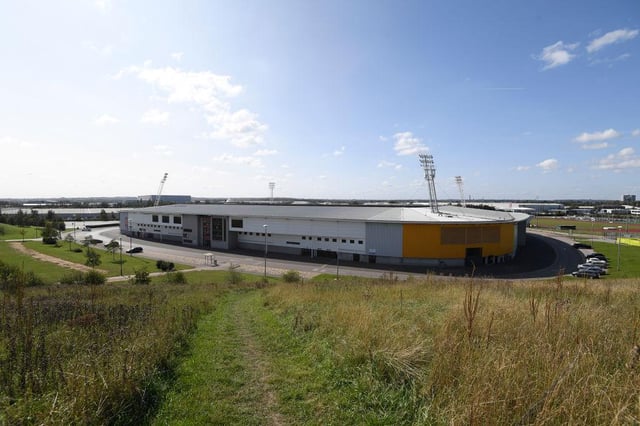 Keepmoat Stadium. Photo: George Wood/Getty Images
But for anyone attending Sunday's Betfred League One clash between Doncaster RLFC and West Wales Raiders (2.30pm) it will be a very different experience to their last visit.
Here we take a look at some of the rules and regulations which spectators must abide by at a Covid-compliant Keepmoat Stadium
Ticket information
Only spectators with valid match tickets bought in advance of the match may attend matches at the Keepmoat Stadium.
Spectators will only be able to purchase match tickets as individuals unless a group booking is made by individuals from the same household or the same social bubble as per Government guidance to ensure appropriate social distancing at the ground.
There are a very limited amount of single match tickets available for £12 (adults) which will be available to buy until 4pm today.
Services/restrictions inside the stadium
No general food and beverage kiosks will be open.
Toilet and first aid facilities will be open. The toilet block will clearly signposted and have social distance queue markings and maximum limits. The area will be monitored by stewards and a cleaning protocol is in place.
Spectators may bring A4 size bags with food and drink which must not include any glass containers as prohibited by stadium ground regulations.
Hand sanitisation stations will be positioned at entry areas, soap dispenser is available in the toilet blocks.
Face coverings are mandated indoors and in all covered communal/covered areas including on entry and in concourses, queues, toilets etc and are strongly encouraged to be worn outdoors due to the higher risk of transmission associated with singing and shouting.
Arrival and exit
Entrance and exit times will be controlled so that everyone can enter and exit in a controlled and safe manner.
Spectators should arrive by and exit at the specified time stated for the area of the stadium they are seated in.
The club is using all East Stand turnstile entrances and exits.
Spectators are asked to limit the number of bags they bring to the ground to avoid the build-up of queues in this area. There must be no waiting outside the stadium.
Inside the stadium
Spectators shall remain within their seats at all times unless accessing the facilities.
Spectators are required to follow all social distancing guidelines and the instructions of all stewards.
Signage has been installed throughout the stadium, spectators should follow this when moving around the ground including when accessing any facilities.
Spectators are responsible for ensuring supervision of children in their care.