'I get emails from the RFU and delete them' - Doncaster Knights boss Steve Boden concentrates solely on his team on eve of Championship season
Ordinarily a defeat by a margin of 70 points can be the breaking of a team but as they prepare to kick-off their 10th successive season in English rugby's second tier, Steve Boden believes it will be the making of his Doncaster Knights.
Watch more of our videos on Shots! 
and live on Freeview channel 276
Visit Shots! now
Knights suffered that 82-12 loss at Premiership powerhouse Northampton Saints in the newly-created cup competition between the top two divisions a fortnight ago, but it was a stinging reverse that helped he and his coaching staff uncover a tactical weakness that could serve them well in the long months ahead of the Championship season.
And ahead of the season opener against Hartpury at Castle Park on Saturday, director of rugby Boden sees nothing but positives.
"If you'd have come into our environment this week you'd have thought we'd won 82-12, not lost 82-12," he said.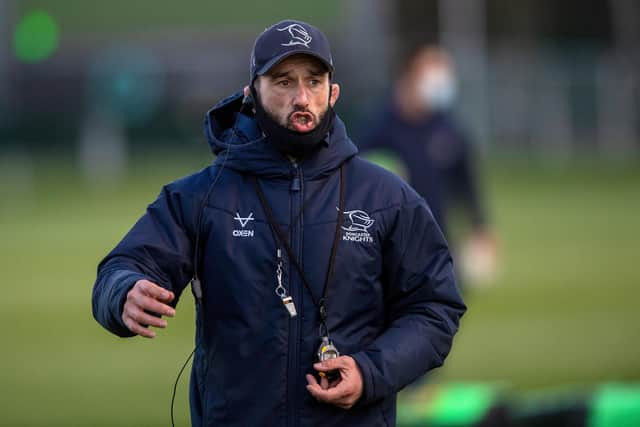 "The leaders in the group have done a great job and that's a credit to our staff – Joe Ford, Tyson Lewis, Adam Simpson and the medical team – and the players.
"We had a tough day out at Northampton but they've really lifted the group and we feel like we're on a really good upward curve.
"They've been honest, they've reviewed it and got stuck into how do we get better.
"I think it's a blessing we played Premiership teams at the end of the competition because they put stronger teams out as their season started the week after. We played Bristol and Saints, plus Ealing who are not a million miles away, so we had three physical encounters.
"It showed us there's a lot of good stuff in our game, there was one glaring weakness and Bristol and Northampton exposed it, so if we hadn't played that level of competition we might not have known that weakness."
Boden would not divulge what that is in case the coaches of Coventry, Nottingham and Hartpury et al are avid readers of The Yorkshire Post, but the fact he and his team have identified it and adapted is the only thing that matters.
For a fourth year under Boden, Doncaster begin the season hoping to challenge for the Championship title. They are a lot healthier than they were a year ago, their squad is smaller, and despite a huge turnover of players as 20 left and 19 came in over the summer, but all got good minutes under their belt in the five games of the Premiership Cup.
The Championship is a lot more wide open than ever before, believes Boden, beyond the estimated £3m extra Ealing Trailfinders have spent on player recruitment. Jersey spent heavily chasing the Premiership dream, won the Championship in May but went bust in September.
Doncaster have never spent beyond their means and never will do.
There is a route into the Premiership for the winners of the Championship this season if – and it is a big IF – they pass the Rugby Football Union's minimum standards criteria audit of a capacity of 5,000 with planning permission to go up to 10,001, then beat the side that finishes bottom of the Premiership in a two-legged play-off final.
"It's one arm tied behind your back, then the other, and now they're tying both legs," says Boden, who like many, has grown weary of the governing body's strangling of the second tier.
"We'll apply for it, and there's still a chance, but I've given up speaking about it, it's a waste of energy and time. I get emails from the RFU and delete them straight away. They're not going to ask for my input, they're just going to tell me what's going on so I'll wait for that call.
"I'll concentrate on Doncaster and what we can do and the group we've got."