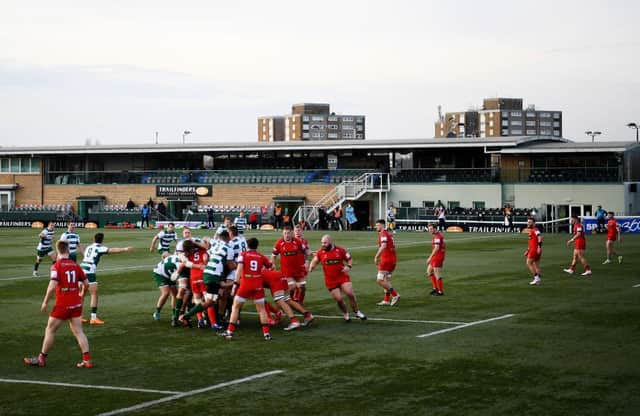 Doncaster Knights in action at Ealing Trailfinders in pre-season. Photo: Alex Davidson/Getty Images
Knights dropped a place to third in the standings as a result of Saracens' victory over Ampthill on Monday night, while Ealing all but guaranteed their place in the final by beating Bedford on Friday night.
A play-off showdown between big-spending Ealing and mighty Saracens has been most likely from the outset given the resources of both clubs.
But Knights, who have performed brilliantly this season to win seven of their eight games, could still throw a spanner in the works.
However, Steve Boden's side will almost certainly need to come up with a surprise win in London this weekend to do just that.
Ealing, on 40 points and with one game left to play, already have one foot in the two-legged final but Doncaster, on 31 points, could still potentially leapfrog them in the table with a five-point victory on Saturday and also at home to Nottingham in their final game on May 29.
Saracens, second on 35 points, face Coventry and Hartpury in their two remaining games and it would be a major shock in they failed to win both fixtures.
Meanwhile, terrace tickets for the Nottingham game are available to buy at www.drfc.co.uk. Knights can accommodate a crowd of just shy of 1,500.