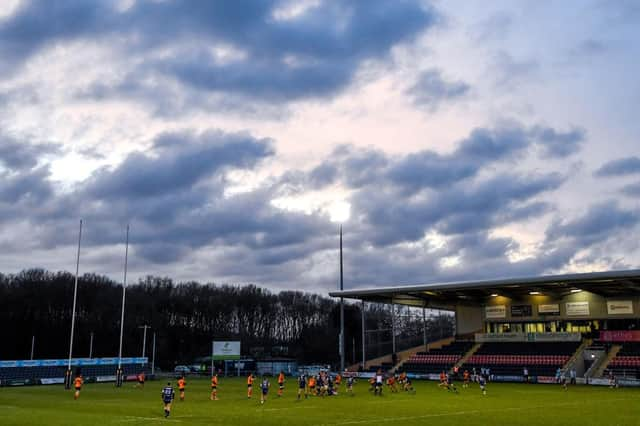 Castle Park. Photo: George Wood/Getty Images
The competition has been closed down for just shy of a year due to Covid-19 but at last resumes this weekend.
Doncaster have had more preparation than most given they have recently been in action in the Trailfinders Cup, playing Ealing Trailfinders (twice) and Saracens.
Ampthill for their part, were unsure at one point if they would even be able to take part in the Championship campaign due to the Covid-testing costs involved but raised sufficient funds to get to the start line.
However, Boden - taking charge of his first league game since taking over at Castle Park last April - said: "I don't know if they were ever not going to play.
"Looking at some of the players they've brought in I think they were always likely to get going.
"And what we do know is they beat a good Bedford side (in a friendly) last week, a great result, so we realise what they're going to be capable of.
"It's a huge challenge going there; they are a very good side and very well-coached but it's a challenge we should be relishing after so long off."
Although his squad will not be publicly released until Friday, Boden has told players who will be featuring in his first competitive game in charge.
"I've gone from the coach who everyone wants to talk to to someone who a lot of players now don't want to talk to at all," he said.
"But that's all part of being a head coach.
"It's great that we're here now. We're just really happy to have a game of rugby on.
"We're lucky to have had three games already but we're really excited now to have a game that means something in terms of league points.
"You can sense that this week building up to going to Ampthill.
"Yes, we'd love to have crowds there but there's a lot of things that aren't ideal at the moment.
"And we have talked about it as a club this year about how we simply don't want to waste a day.
"It's been so long with no games and, for a big period, so long with no training that it has helped bring out the old school characteristics of just wanting to enjoy matters.
"It makes you really apprectiaive of what you've got and we're using that approach going into this season."
After careful consideration, Doncaster have confirmed their fixture list with six games at Castle Park and four away, having agreed a switch with Jersey Reds to accommodate travel restrictions on the Island.
The only fixture still to be confirmed is the final game against Nottingham at Castle Park on the weekend of May 29.
March 7th Ampthill (away) 1pm
March 12th Coventry (H) 6pm
March 19th Hartpury (A) 7.30pm
March 27th Cornish Pirates (H) 3pm
April 10th Jersey Reds (H) 2.30pm
April 18th Saracens (H) 3pm
April 24th Richmond (A) 3pm
May 2nd Bedford Blues (H) 1pm
May 22nd Ealing Trailfinders (A) 3pm
May 29th Nottingham (H) TBC
June 12th Play-off final leg one
June 19th Play-off final leg two