Demanding Steve Boden reignites Doncaster Knights' spirit and identity
Head coach Steve Boden has given an insight into the standards he is demanding at high-flying Doncaster Knights by admitting he apologised to his players after Saturday's memorable win over Cornish Pirates for being too hard on them.
Tuesday, 30th March 2021, 2:01 pm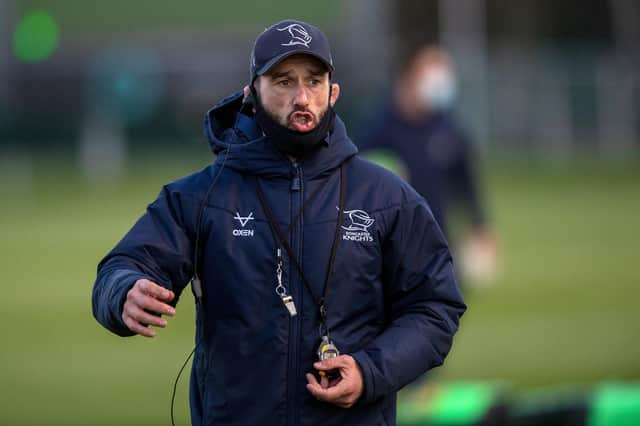 Knights head coach Steve Boden
Boden's rebuilding job at Castle Park has included spelling out Knights' core values to his new-look squad.
The results so far speak for themselves – with Doncaster heading into the mid-season break with four wins out of four in the Greene King IPA Championship.
Boden, however, said his side 'had to do better' after their recent win over Coventry and the former Knights hooker laid it on thick to his squad again in the build-up to the Pirates' visit.
"It's a good time for a break," Boden said after Saturday's 17-15 victory.
"I was probably a bit hard on the players in the week and had to apologise to them a little bit. It's just because I don't want us to settle for being okay.
"This game was never going to be won on loads of little tip passes and really pretty rugby," he added. "It was going to be won by grinding it out.
"We've got massive respect for Cornish Pirates. They're a really physical side, they're a really dogged side and they're coached really well so we knew it was going to be about grinding it out.
"The winning factor for me was when we were down to 13 and we nearly came away with a score down the other end of the field.
"Getting through that period without conceding was a massive testament to the players and the heart and desire they showed."
Knights have shown spirit and desire aplenty so far this season, defeating Pirates and Ampthill in two-point games and another thriller saw them beat Coventry by a single point.
"Energy, enthusiasm, physicality – whilst you play at Doncaster that should be an absolute given," said Boden.
"Whilst I'm here, and the rest of the staff are here, it's something we want to drive.
"It's quite easy to drive with this group because they like it.
"I think they showed that in abundance today. The errors, the skill stuff, an intercept or a missed pass, the timing – that's on the coaches. But the rest of it, they bring it.
"Big games like this aren't won by coaches, they're won by players."