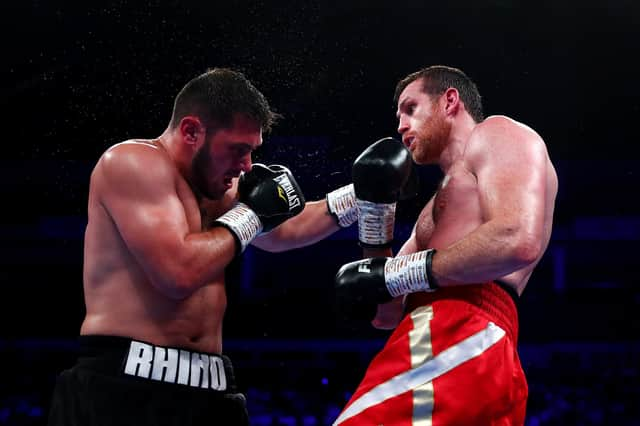 Dave Allen battles with David Price during a punishing WBA continental heavyweight title fight last year. Photo: Dan Istitene/Getty Images
The Conisbrough heavyweight, 28, announced his retirement from boxing last week.
He was stretchered from the ring and went to hospital after losing to Price in ten rounds in July 2019.
"Being completely honest I was scared, boxing scared after the David Price fight," Allen told talkSPORT.
"Before the Price fight nothing scared me, I would've fought anybody.
"Before this fight – I was meant to fight this Saturday – I was fearful for the very first time in my boxing career.
"I was scared to box. I've always been scared to lose but I've never been scared to fight.
"I was scared to fight, so that's when I knew it was time to call it a day."
He continued: "Not many people go to the hospital unconscious with paralysed limbs and get to live a normal life again.
"I met Michael Watson earlier this year and after the Chris Eubank fight he's had to work so hard to walk again, to speak again, to live.
"I met him and that had a bit of an effect on me as well, I thought, 'I'm so lucky, I'm kind of gambling the rest of my life, I'm only 28.'
"Over the weekend I thought, 'It's time to stop David, you're gambling your life possibly.'
"So yeah I made the decision based on that.
"I've always been known as a tough hard man, but I'm scared to fight. It's not there anymore, I'm not a fighter anymore.
"I've almost done it before through frustration, but this time I've called time on it because I'm not a fighter anymore, I'm not.
"I've had the fight beat out of me. It's all gone. Money doesn't drive me, I've got a lot of pride and I don't want to be getting beat by people I would've beat years ago.
"I don't want to be getting hurt, I don't want to be getting knocked out, so there's not enough money in the world to make me box again because I'd be a shell of my former self."
Allen's career peaked in April last year when he knocked out former WBA champion Lucas Browne at The O2. He shared the ring with big-hitters Dillian Whyte, Luis Ortiz and Tony Yoka.
Allen has retired with a record of 18-5-2.