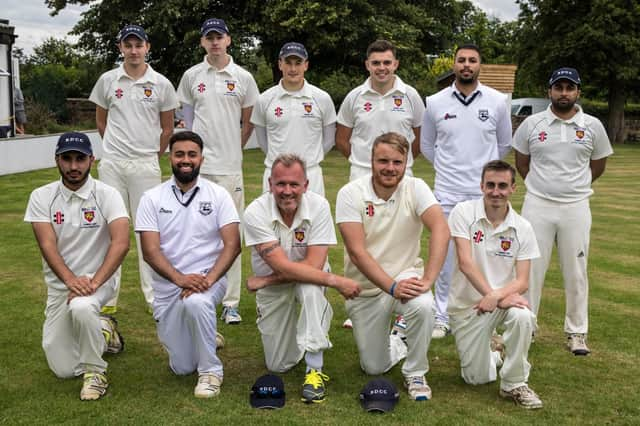 Barnby Dun CC 1st XI 2020
Covid-19 completely put paid to the exhibition matches and formal dinners planned for this year.
And club officials could barely believe their luck when they found out recently that their first XI had been relegated from Division Two of the Pontefract & District Cricket League (PDCL) – despite finishing above the drop zone!
"We started well but faded badly, losing most of our matches late in the season," said committee member Stuart Taylor.
Barnby Dun batsman Idris Khan in action in 2019
"But we finished third from bottom, one place above the relegation zone. The final league table on Play Cricket showed that the two teams below us had been relegated with red downward arrows confirming this.
"To our complete surprise and dismay, when the division allocations were announced recently by email for season 2021 we found we had been relegated to Division Three by the league committee – and two teams joining from the Wetherby League [Oulton and Kippax] had been inserted into Division Two at our expense.
"This was, of course, a huge disappointment to us to say the least. Instead of enjoying a festival of celebrations during the summer, we ended up having to pick ourselves up off the floor after an unwarranted relegation."
The PDCL did not respond to a request from the Free Press for an explanation but they have told Barnby Dun that the league rules state: "When new clubs join the league they will be placed into the division appropriate to their standing. This may affect the number of teams to be promoted/relegated at the end of the season."
Barnby Dun hosted the Yorkshire Vikings blind team in 2018
"Despite everything this year, we remain optimistic and look forward to season 2021," added Taylor.
"The good news is that we have had an influx of new players and we're confident about the second XI's chances next year.
"We've always had a strong community focus too, we have a good relationship with local schools and we run the All Stars programme for young children – and we're looking forward to getting those activities up and running again."