'You knew he was going to do it but you can't stop it' - Andy Butler on The Choppinger, his inspirational friend and how he will urge his Doncaster Rovers players not to let James Coppinger down on his final bow
Andy Butler will have a simple message for his Doncaster Rovers players before they head out onto the pitch against Peterborough United.
Sunday, 9th May 2021, 8:12 am
James Coppinger will bring to an end one of the most important playing careers in the history of Rovers this afternoon and Butler wants the team to ensure he goes out on the right note.
"I think the drive for the players is don't let him down," Butler said.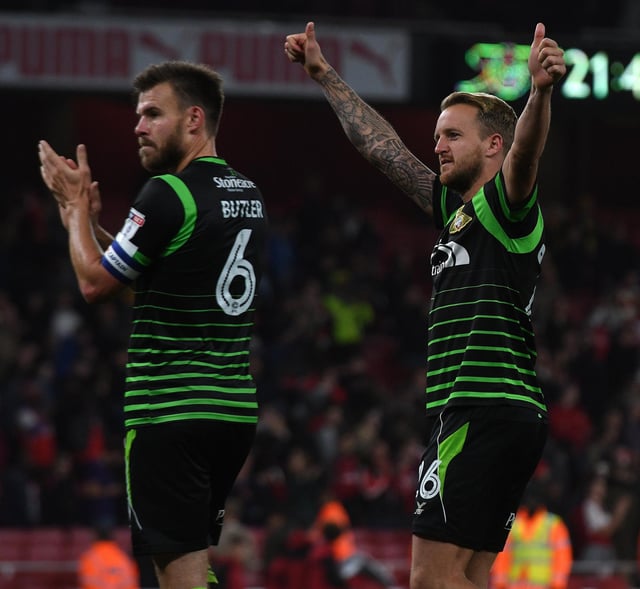 James Coppinger and Andy Butler after Rovers' trip to Arsenal in 2017
"Don't let Copps down in his last game.
"Don't come off the pitch and think you've not put a shift in for a player and a person that has given everything for Doncaster Rovers.
"You'll always have regrets and Copps will always look back at the game and think why has he not done that."
Butler has been a team mate of Coppinger since 2014 with the pair developing a strong bond as two of the more senior members of the squad.
And he describes the 40-year-old as an inspirational figure on and off the pitch.
"As a player you know him from playing against him and you know what he's capable of," Butler said.
"The Chop or the Choppinger - you know what you're going to get from his move.
"He is very similar to how Peter Beagrie was, who I played with at Scunthorpe. You knew he was going to do it but you can't stop it.
"It's things like that and his overall work rate is brilliant.
"People think the older you get the less fit you are. Copps inspires me to be one of the fittest players in the squad with his work and how fit he is.
"We're always at the front of the pre-season running because you have to show what you need to be the front-runners and show the younger players what it's going to take.
"As a person, I used to share rooms with him and he was great with that.
"He's talkative and he's got so much going on outside football.
"It's inspiring to listen to him, the things he's dealt with and how he's dealt with certain things in his career.
"I'm still learning and hopefully I can work close with him again in the future."
*