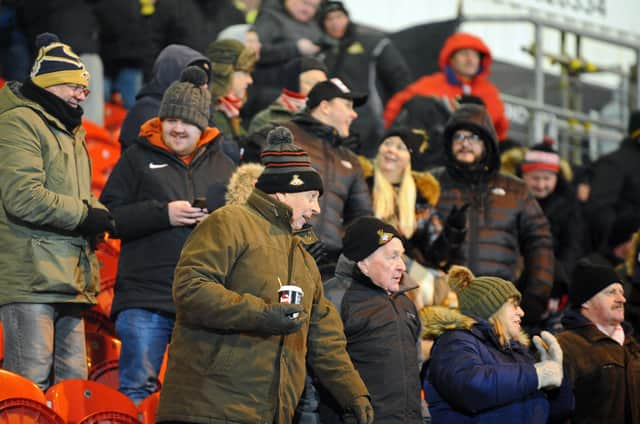 Doncaster Rovers fans
Prime Minister Boris Johnson last week delayed the lifting of restrictions until July 19 at the earliest, meaning Rovers are unable to plan with certainty over the size of crowds permitted next season.
Therefore, initially, season ticket sales will be capped at 3,000 to ensure all those that purchase one will be able to attend home matches.
The club reported strong sales over the first week of season tickets being available online while there were queues at the stadium on the opening of the box office on Monday.
More than 1,500 tickets have been sold already with more than 250 of those purchased by new season ticket holders. The club expect to hit the 3,000 mark next week.
"We're limiting season tickets initially to 3,000 which means if the restrictions continue, everyone with a season ticket can get in," chief executive Gavin Baldwin told the Free Press.
"Hopefully we get good news and then we can just release more.
"Anyone who buys a season ticket will be able to get in and that is the almost guaranteed way of getting in to watch Doncaster Rovers next season - unless there are some unforeseen circumstances that see us all locked down again."
Baldwin revealed Rovers have secured two 'top class' home friendlies for the build-up to the start of the season, including one against Premier League opposition.
Both will come after July 19 meaning there is a possibility the stadium will be able to operate at full capacity.
As with season tickets, the club will restrict ticket sales for the friendlies initially and hopefully open up more should restrictions be lifted as planned.
Baldwin says the club are continuing to speak to supporters about any measures they wish to see in place on their return to the stadium for the first time in 17 months, with the emphasis on ensuring that people will feel safe.
"We want a full ground next year but we're working that whatever capacity we're allowed, people will feel safe and it will be a really enjoyable experience," he said.
"We're talking to fans about what the catering facilities should be like - should it be vans outside the ground or the concourses open?
"Do fans expect to arrive on staggered times and leave on staggered times?
"We want everyone to feel safe and really enjoy it. If they feel like us, they cannot wait for the first game of the season.
"But we don't want it to be ruined if people feel unsafe when they are here.
"At the moment we expect we could operate as normal and we hope to do so.
"If the fans request something we can do, then that's what we'll do.
"I don't want people to really look forward to the game and then come here and not enjoy it."
On unveiling their season ticket packages, Rovers offered a range of benefits for those supporters willing and able to forgo a refund from last term's unused tickets.
And Baldwin says there was a determination to ensure fans know they are valued, particularly after their generosity during the last 12 months.
"We understand that some people will not be able to donate last season's season ticket but we've asked those that might be able to do it, will they," he said.
"Their response has been incredible.
"Even if we get it wrong sometimes, our culture as a club is to listen to fans and we want to delight them. Before we go out with any offer, we've spoken to a lot of fans about it and therefore we've tried to give people a cheaper season ticket for the next five years to recoup their monies.
"We've tried to give them money can't buy experiences through something we really want to be a really good product, the Experience Club.
"We're really tried to protect fans going forward if games do not go ahead and hopefully put together offers that help to show how much we value the help and support they have given us.
"It's also what we should do in my opinion. We want fans to love coming here and love being a fan of this club and know how much they are appreciated by the players and staff.
"It means so much to everyone at the club that it is an enjoyable experience being a fan of this club and it enhances people's lives.
"We may lose a few games but people are proud of the club they support."
*