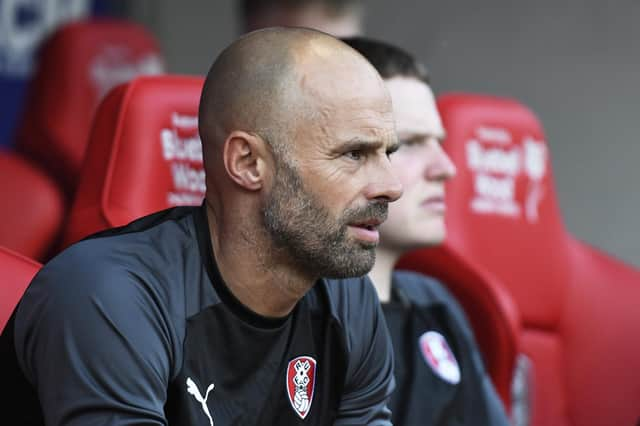 Paul Warne. Photo by George Wood/Getty Images
Clubs in all three EFL divisions are now set to meet on June 8 to try and rubber-stamp proposals on how to finish the season early if no further games are played.
At a meeting on Wednesday, the EFL board "unanimously" agreed upon a framework to conclude the season – including promotion, relegation and play-offs – but needs clubs to approve it.
A 51 per cent majority of clubs in the Championship, League One and League Two is required to approve the curtailment of the campaign.
Only after agreement is reached on proposed changes to EFL regulations will a division-by-division vote take place on whether or not to curtail the season.
League Two clubs have indicated a wish to end the season, but the situation is undecided in League One. Championship clubs are aiming to re-start the season in June.
Clubs have been given until Tuesday to continue submitting any alternative proposals for how the framework could work with football having been shutdown since mid-March doe to the coronavirus pandemic.
An EFL statement said: "A decision on whether or not to curtail the season is a matter to be considered by clubs in any affected division, but only once a framework for resolving open issues in such circumstances has been agreed by all members across all divisions through a regulation change."
Currently, unweighted points-per-game (PPG) would decide final league placings in all three divisions if the respective seasons cannot be completed.
If the season is decided on unweighted PPG in League One, then second-placed Rotherham would be promoted along with leaders Coventry City.
Warne said: "I do have a feel which way it will go. I think now that the EFL have put their recommendations in place, it feels like there's a wave towards curtailing the season.
"Clubs understandably have serious financial concerns. The Huddersfield Town owner thinks 50 to 60 clubs could hit the wall. In Australia, there's a report that players might have to take an 80 per cent wage cut.
"Then there are all the health implications of playing on. It would take a lot of money for clubs to get all the required testing and precautions in place.
"I think that, to help get them through the next few months, clubs will try to retain as much money as they can.
"If you're a club in a position with nothing to gain from coming back – apart from the word, 'integrity', which gets bandied about all over the place – why would you want to come back?
"If you haven't got any money as a club and you're in your overdraft why would you take on another debt? I just can't see it."
Speaking earlier this week, Millers chairman Tony Stewart estimated that it would cost League One clubs 'between £500,000 and £1m' to play out the remainder of the 2019-20 campaign.
Stewart believes that the costs of paying for Covid-19 testing, staging games and bringing many players out of furlough will ultimately prove too prohibitive for many clubs, who currently having no revenue streams coming in due to football's shutdown.
He said: "I do believe that there is a strong belief in League One that they do want to abandon and call it a day and then pick up the cudgels next season.
"The weight of the money outweighs trying to fulfil the season.
"They have estimated that if we were to fulfil the fixtures for this season that the training would cost £150,000 per club.
"That is an additional cost if you complete the season," he added.
"Then, there's the loss of revenue with there being no fans. To complete the season, I think it will cost between £500,000 and £1m per club. It stops you a bit in your tracks.
"If you are seventh from bottom or ninth from the top, you might be saying: 'hang on, what do I get out of this?' and the answer is debt."
Doncaster Rovers, who were ninth in League One when the EFL called a halt to fixtures, are one of a number of clubs who have furloughed players, and they cannot return to training until they come off it.
In an open letter to fans this week, chief executive Gavin Baldwin stated that he expected a final decision on the future of League One in 2020-21 to be revealed at some point in the week commencing June 8, if not earlier.
If the season is ended, Rovers chief Darren Moore has said it should be declared null and void and has deemed the points 
per game system to be wholly unfair.