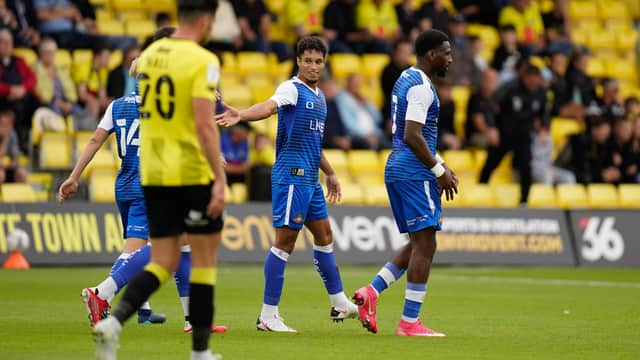 Kyle Knoyle celebrates his goal for Doncaster Rovers against Harrogate Town. Picture: Steve Flynn/AHPIX
Recap the events of the game on the blog service below.
*
LIVE: Harrogate Town 2 Doncaster Rovers 3
Last updated: Sunday, 01 August, 2021, 15:53
MATCH DETAILS
GOAL: Knoyle (19), Muldoon (48), Barlow (49), Gardner (53), Armstrong (66)
Harrogate: Oxley, Page (Fallowfield 75), Falkingham (Orsi 75), Burrell (Kerry 75), Thomson, Martin (Power 69), Pattison, Muldoon (Smith 75), Hall (Sheron 75), McArdle, Armstrong. Subs: Fallowfield, Smith, Cracknell, Orsi, Sheron, Kerry, Power.
Rovers: Jones (Barnes 69); Knoyle (Seaman 76), R Williams, Anderson, Rowe; Smith, Reed (Trialist 69), Gardner (Horton 76); Barlow, Bogle (E Williams 75), Cukur (Harrison 67). Subs: Bottomley, John, Hasani, Blythe, Trialist.
Improved after the break
After a bit of a flat first half, Rovers - and the game itself - ignited somewhat after the break to earn the win.
Though they tapered off in the later stages it was a more pleasing performance overall in the second half. They showed greater intensity and moved the ball well at times.
It was pleasing to see Aidan Barlow grabbing what is becoming a trademark goal, and against good opposition too, while Dan Gardner turned in his best performance of pre-season and marked it with a good goal.
It's ot been the most perfect of pre-seasons but there have been some good positives to carry Rovers into the new campaign.
3.50pm All over
And Rovers close pre-season with a 3-2 win at Harrogate.
Pressure late on
Harrogate have been the side pushing for a goal in the later stages of this game but have so far failed to beat trialist keeper Dillon Barnes.
The QPR keeper has looked assured between the sticks during his late cameo.
85 Substitution
Ed Williams replaces Omar Bogle
76 Substitution
Charlie Seaman and Branden Horton replace Kyle Knoyle and Dan Gardner.
Tommy Rowe has pushed into midfield.
69 Substitution
Louis Jones and Louis Reed are both heading off, replaced by two trialists.
The goalkeeper is QPR keeper Dillon Barnes. The midfielder will go unnamed at this point but is a very experienced EFL operator.
67 Substitution
Tiago Cukur is replaced by trialist Shayon Harrison.
66 GOAL Harrogate
Luke Armstrong fires in at the near post for Harrogate.
Tommy Rowe was caught uncharacteristically flatfooted with George Thompson nicking the ball away from him on the corner of the box and squaring to Armstrong, who fired in first time off the post.
Been better
There's been a notable lift in intensity this half from Rovers and they've looked much better.
They've played the ball around with more purpose also, which has helped them spring into spaces more.