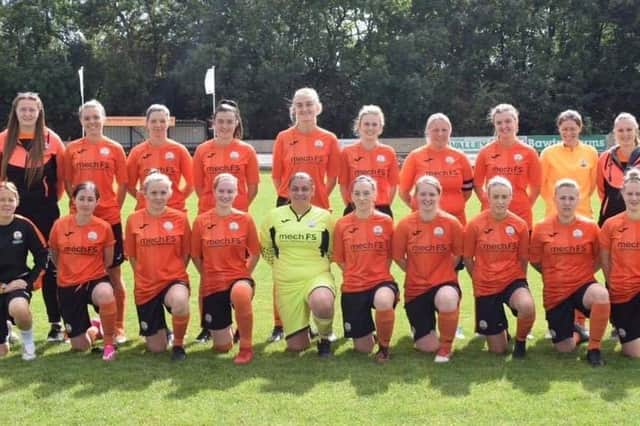 Harworth Colliery Ladies. Back (left to right): Amy Booth, Abbie France, Rachel Bell, Jodie Shakespeare, Lou McCreadie, Lucy Bristow, Laura Brinkley (VC) Katie McCreadie, Tara Fisher, Sophie Gray (C). Front (left to right): Vicky Hogg (physio), Katie Scorer, Lauren Jeavons, Dani Thompson, Julie Key, Kat Cunliffe, Rachel Harvey, Jasmine Blunt, Gabi Marriott, Sophie Thompson
They have already won one league title since being formed just four years ago.
And they started the new Sheffield & Hallamshire Womens & Girls League season in high spirits after giving Sheffield Wednesday Ladies a serious run for their money in the Vitality Women's FA Cup last month.
We caught up with manager Mark Thompson to discuss the growth of ladies football at Scrooby Road.
Action from Harworth's FA Cup game at Sheffield Wednesday.
How has the team developed and grown since its formation?
The ladies team was formed in 2016 by Nicholas Burton who saw an opportunity and thought it could be successful. Nick was coaching with the men's reserves and U21s.
In their first season the ladies won Division Three which was a great achievement.
At the beginning of the second season Nick stood down for personal reasons. We had another manager but he didn't stay long and I'd been at the club helping as a coach from the beginning so when I was asked to take on the job I was happy to do so.
Left to right, Abbie France, Lauren Jeavons and Georgia Walker-Ellis.
The ladies have been in Division One since winning the Division Three title and if last season had been played to a finish we could have been in with a chance of promotion. Promotion is very much the aim for this season.
What have been your biggest challenges as a club?
Our biggest challenge is attracting players because there are a lot of big name clubs around us.
There's Doncaster Rovers Belles, Rotherham United, Barnsley, the Sheffield teams and we're also on the Nottingham border so we are also competing with Nottingham FA teams.
Are the girls predominantly from Doncaster? And has the Belles dropping down the leagues had an impact on your club?
Most of the players are from the Doncaster area. We have some from Sheffield, Chesterfield, Ollerton and Brigg.
We have lost a few players to Doncaster Rovers Belles but they play at a higher level and we wish them the very best.
Do you have any notable characters or success stories among the playing squad? What would you say generally about their ability and attitude?
We have several players that could be classed as notable characters.
Abbie France is always the life and soul of the dressing room and the only player I've seen drink a cup of tea while doing a warm-up.
Lauren Jeavons has had many a blooper, like not knowing what a red herring is, and Georgia Walker-Ellis loves being a lively character in the changing room.
Goalkeeper Julie Key was capped by England when she was younger and defender Vicky Hogg is now a qualified sports therapist who plans to do her pitch side physio courses and level one coaching.
Vicky and Tara Fisher do a lot for charity. Tara recently assisted Vicky in doing Coast to Coast to raise money and awareness for our secretary Elaine Thompson's charity Dystonia.
They both have cycled from Land's End to John O'Groats for the Sick Children's Trust. Tara also did the Virtual London Marathon this month for Doncaster Cancer Detection Trust and Firefly.
Four of the original players are still with us – Dani Thompson, Sophie Thompson, Sophie Gray and Laura Brinkley.
Dani, Sophie Thompson and Abbie France coach the under nine girls at Harworth and Jodie Shakespeare coaches the under nine girls at the Belles.
The attitude and commitment of the team is top notch. During lockdown the ladies did running and sprinting to keep their fitness up and it's paid off because they have returned to pre-season fitter than any other season.
We have a range of abilities but they work hard in training to be the best they can be. They all encourage each other to improve.
The girls recently did themselves proud at Sheffield Wednesday, narrowly losing in the FA Cup - how was that experience and what did you and the players learn?
The recent loss against Sheffield Wednesday was a really good experience for the ladies playing against a club several divisions higher.
We were a bit nervy at the beginning but they settled into it and at some points were the better side. It was a disciplined performance.
The girls really enjoyed playing in such a prestigious competition and they learnt that they are probably better then what they think they are and as a team they could compete at a higher level.
What are your short term and long term ambitions as a club?
The short term ambition is to achieve promotion from the league.
Longer term the hope is to build on our numbers in order to start a development team.
We want to work closely with the junior teams and see them progressing into the open age squad.
After all, the club's philosophy is 'football for all'.
We're always looking to progress in all areas, from the junior boys and girls all the way through the age groups, including the senior men's teams.
It's a family friendly club with excellent facilities for everybody. The chairman Jonathan Wilson works tirelessly behind the scenes to make sure everyone at the club enjoys their experience.
I'd also like to thank our sponsors Mech FS for their continued support.