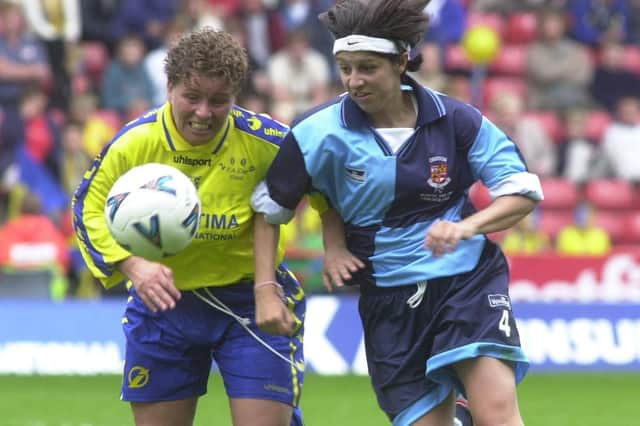 Doncaster Belles star Gillian Coultard, left, pictured in action in the 2000 Women's FA Cup final against Croydon.
She made more than 300 appearances for Belles and was awarded an MBE for services to football in the latest New Year Honours list.
Gill now lives in Castleford and spoke to JPIMedia about family, identity and football.
Gillian Coultard in action for England in 2000. Photo: Tom Shaw/Allsport
I grew up in Thorne, near Doncaster. My first memory is of Yorkshire puddings. My mum had a big family. I was the youngest of eight children and she made us a Yorkshire pudding every single Sunday before we had our dinner. It fills me up and when I see Yorkshire puddings, it makes me think of my mum. We lived on a long road and we had a green which is where I started my football career from the age of nine. I didn't get selected for the Doncaster schools' team because I was a girl, not because of my talent, but then a teacher said "I'll take you to Doncaster Belles".
Which Yorkshire sportsman or woman, past or present, would you like to take out for lunch?
Without question, it has to be Kevin Keegan. He's from Armthorpe in Doncaster. Kevin is one of my idols and I could relate to him when I was growing up. He's a local lad and down to earth. I remember once playing at Bramall Lane. Kevin came out, we exchanged numbers and he said if you ever need anything, just give me a shout.
What do you think it is which gives Yorkshire its unique identity?
Gillian Coultard (front, centre) on England duty in 1997. Photo: Clive Brunskill/Allsport
You've got to say the accents. Every accent in Yorkshire is different and some people are broader than others. We had a player at Doncaster Belles from Goldthorpe and she came out with sayings that even I'd not heard of. We also have other features that make us different like Harry Ramsden's, Bettys and Yorkshire tarts and, of course, Yorkshire puddings.
If you had to change one thing in Yorkshire, what would it be?
I want to see more football on the curriculum for girls. It helps fight obesity and you bring kids alive when they're doing sport. From a women's point of view, it has come on leaps and bounds, but girls are fighting battles to get facilities and being equal with boys. We've got to keep knocking on doors to get more funding.
Who is the Yorkshire person you admire the most?
My mum, Peggy. She had a hard life and came from Goole. She had eight kids to bring up. My dad left us when I was three. Mum had two jobs and she made me appreciate money because we didn't have a lot. But she gave us everything she possibly could for Christmas.
How has Yorkshire influenced your work?
Massively. I'm proud to be a Yorkshire woman and proud to come from Thorne. In this world you've got to make your own luck. You've got to fight hard for what you want. I dreamt of becoming a footballer, playing for England and captaining the team. And I've done all that.