Paul Goodwin's verdict: Doncaster Rovers at crossroads after seismic collapse
Supporters have every right to be angry, upset and concerned about the way this season has played out.
Sunday, 9th May 2021, 3:58 pm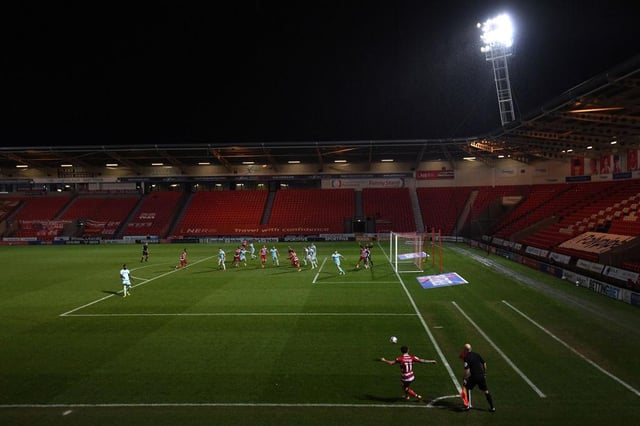 Photo by George Wood/Getty Images
Doncaster Rovers may have had to contend with a revenue-sapping global pandemic, another managerial departure and some really unhelpful injuries.
But none of the above excuse one of the club's worst ever post-Christmas slumps and some of the most abject performances of recent times.
If Rovers had floated around in mid-table for the entirety of an alien season no one would have probably batted an eyelid.
Photo by George Wood/Getty Images
But to go from title-winning form to relegation form, and so tamely surrender what might be their best chance of promotion for years, has raised some questions about the club's drive and decision-making as well as their current models of recruitment and retention.
Rovers are stuck in a vicious circle. They're about to appoint a fourth manager in five and a half years and embark on yet another squad rebuild.
They are at a crossroads and if they continue along the same path they risk going absolutely nowhere.
Why did the season go so badly wrong?
We will probably never know the true ripple effects caused by Darren Moore's departure to Sheffield Wednesday but it quite clearly had a huge de-stabilising effect on the dressing room.
A perfect storm erupts when you add the January exit of captain Ben Whiteman, the injuries, the unrelenting schedule, the number of contracts left to run down and an over-reliance on loan players.
When a team goes from well-oiled machine to lifeless rabble, though, it deserves much closer inspection.
The rot may have set in before Moore left but he also built a young, energetic side who beat Charlton, Portsmouth, Ipswich, Lincoln and Blackpool before the end of November and after 23 games sat third in League One with 48 points, three behind then leaders Lincoln with two games in hand on the Imps.
It raised expectation levels but it was no fluke either. Moore's Rovers had their faults but they were well organised, everyone knew their job and the squad appeared to buy into his rotation policy. The camp seemed motivated, well drilled and united, at least from the outside looking in.
Victories over Swindon, Rochdale and AFC Wimbledon initially suggested the team had adapted to losing Whiteman but the cracks started to appear in the more fortuitous wins over Oxford United and Lincoln.
Those cracks literally burst open when Tom Anderson went off injured against Fleetwood and the defensive foundations that much of the early season form had been built on collapsed completely.
Shorn of leaders, drained of confidence and minus Jon Taylor, Tyreece John-Jules and a fully fit Josh Sims as attacking outlets, what followed made for distressing viewing as a team that promised so much completely self-imploded and appeared to do so with very little professional pride.
It might have been different had Rovers embarked on their managerial recruitment process the minute Moore decided to leave.
It might have been different had they hired a more experienced manager.
It might have been different had Andy Butler been afforded the support of an assistant or continued to pick himself.
It might have been different had fans been inside stadiums to vent their feelings.
What might have been. We'll never know.
Butler sparked a reaction for the wins over Plymouth and Portsmouth but was powerless to stop the slide. He wanted all-action, robustness and entertainment but got exactly the opposite and his absence from the heart of the defence only made matters worse.
A rousing comeback at Peterborough and the win at Rochdale only served to prove they had not become bad players overnight.
Rovers probably weren't as good as results initially suggested or as bad as the results that followed.
But the league table does not lie and the prospect of a bottom half finish, after being so well positioned for a promotion push, is an embarrassing one.
Did Rovers simply run out of steam?
Andy Butler and James Coppinger have both suggested that the drop-off was down to inexperience and more specifically the high percentage of players in the squad either in their first or second season in the EFL.
It's a fair point. Their bodies and minds are simply not tuned to the rigours of a normal 46-game campaign let alone one crammed in due to Covid.
Compare this squad with Rovers' battle hardened title winners in 2013 for instance. There is no comparison whatsoever.
But what their theory does not excuse is the shameful performance against Wigan, the hopeless second half collapse again Burton and an alarming lack of pride in the badge when the going got tough.
Nor does it really explain why the likes of Taylor Richards and Jason Lokilo have suddenly found a second wind during the dying embers, although confidence is clearly a major factor.
What it does suggest is that the squad was imbalanced in terms of age and experience. The number of players in each age bracket should be urgently reviewed.
Where do Rovers go from here?
Getting into the Championship would be worth around £5million extra in Premier League solidarity payments so, even after witnessing such a pitiful collapse, it is a fallacy to think that the club is not striving for promotion.
But striving for something and actually achieving it are two very different things and it is reasonable to question just how badly the owners crave second tier status and how willing they are to fund a concerted promotion push, particularly during a global pandemic which has cut off regular revenue streams.
The reality is that the seasoned top end League One players that Rovers were short of this term won't come cheap.
So are Rovers content to be challenging for sixth spot in League One every season or is there a burning desire to get back into the Championship and stay there? Welcome to the crossroads.
Rovers could continue to roll the dice every summer by signing players mainly on short term deals and making full use of the loan market. It's a cost-effective way of operating but, as this season has shown, is less likely to get the required results.
They could turn that approach on its head by recruiting players on longer term deals, reduce the number of loan players, and build a squad that could potentially grow together. A three-year deal for Jon Taylor already indicates a change of approach.
Or, more radically, they could play the long game by trusting more of their own academy players and putting any immediate promotion ambitions to the side in search of longer term health benefits.
The most likely outcome this summer, given the financial climate, is a mixture of all three.
What is worrying is that the play-off appearance under Grant McCann two years ago is beginning to look like an anomaly since the club's relegation from the Championship in 2014.
The strong core of McCann's squad - Andy Butler, Danny Andrew, Ben Whiteman, Tommy Rowe, Matty Blair, James Coppinger, John Marquis - gradually weakened during Moore's tenure and rebuilding that will be key to any future promotion hopes.
It's a huge job for the next manager to not only rebuild the squad but also rebuild confidence and re-engage with frustrated supporters. And, if Rovers do harbour serious promotion ambitions, the club must take a different path to their current one.