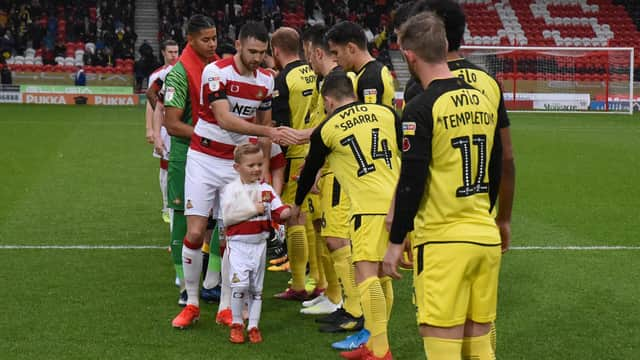 Doncaster Rovers carry out their pre-match handshake with Burton Albion
After taking medical advice, the EFL have ruled handshakes between players and match officials will not take place until further notice in a bid to prevent the spread of the virus.
There are currently no plans to postpone fixtures or hold games behind closed doors and the EFL have confirmed they are leaving decisions over precautionary measures down to individuals clubs.
A statement from the EFL included: "As a result of the ongoing concerns posed by the Coronavirus outbreak and following specific medical advice, the Fair Play handshake between players and match officials will not take place at this weekend's EFL matches and until further notice.
"Whilst the Government guidance does remain unchanged, a decision has been taken on medical advice and as a precautionary measure.
"Matchday operations at EFL grounds are set to continue this weekend with clubs being advised to take appropriate prevention measures as per the Government guidance.
"It is understood, however, that individual Clubs may take decisions at a local level to help mitigate the risk of the virus spreading further ahead of this weekend's matches.
"The EFL continues to remain in regular dialogue with the Government regarding the ongoing developments and is being appraised on a regular basis of developments that could potentially impact our clubs and competitions
"These matters are subject to constant change and we will update as appropriate."