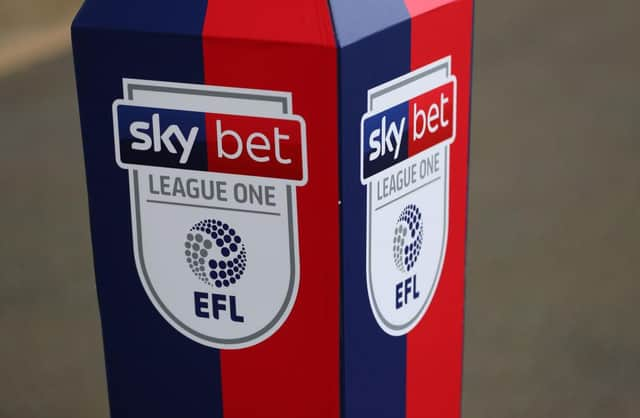 SkyBet League One
Big money has been spent, perennial contenders have strengthened and the battle for a top six finish looks likely to involve more than half the teams in the division.
But how are teams really shaping up for the new campaign?
We have collated the views of journalists attached to each of the 24 League One clubs and asked them to assess their side's fortunes heading into the new season.
And they also have predicted which teams will be promoted and which will suffer the drop.
LEAGUE ONE PREVIEW
Last updated: Friday, 06 August, 2021, 14:29
ACCRINGTON STANLEY
Key ins: Joel Mumbongo, James Trafford, Harry Pell, John O'Sullivan, Joe Hardy
Key outs: Mark Hughes, Joe Maguire, Reagan Ogle
Reasons for optimism: John Coleman has managed to keep the main squad together from last season, and so far has kept hold of his prize assets whilst strengthening in other areas too. Off the field the club is flourishing too with a new training ground and ground facilities. So what's not to get excited about?!
Reasons for caution: Hardcore Accrington fans will say they have had more success in the last 20 years than fans of most clubs in their lifetime. The constant worry being that success will come to an end at some point - it's a similar scenario every season, as an Accrington fan it comes with the territory.
Predicted finish: 9th - Heartbreakingly just outside the play-offs, it may just be a bridge too far with the money that is being spent at the so-called 'bigger clubs' that were relegated/promoted last season.
Three to go up: Ipswich, Portsmouth, Sheffield Wednesday
Four to go down: Cambridge, AFC Wimbledon, Fleetwood, Morecambe
Hope for the season: Winning the play-offs at Wembley would be the ultimate dream, Stanley have never played at the home of football, so winning promotion there would be incredible.
AFC WIMBLEDON
Publication: South London Press
Key ins: Aaron Pressley, Luke McCormick, George Marsh
Key outs: Joe Pigott, Terell Thomas, George Dobson
Reasons for optimism: Wimbledon have been revitalised under Mark Robinson, and he's keen for the club to aspire for more than just staying in the division. Some exciting young talent like Ayoub Assal should give fans some cause for optimism in 21/22.
Reasons for caution: Coping without Joe Pigott, who scored 20-plus league goals last season, isn't going to be easy for Wimbledon. There'll be a lot of pressure on Aaron Pressley to adapt to senior football quickly.
Predicted finish: 14th - I fancy Wimbledon to surprise a few and avoid a scrap for relegation this year given their improvements since Mark Robinson took charge.
Three to go up: Bolton, Ipswich, Rotherham
Four to go down: Burton, Cambridge, Fleetwood, Morecambe
Hope for the season: No survival worries on the final day would be nice!
BOLTON WANDERERS
Key ins: Josh Sheehan, Amadou Bakayoko, Xavier Amaechi, Declan John, Dapo Afolayan
Key outs: Shaun Miller, Arthur Gnahoua, Reiss Greenidge, Ryan Delaney
Reasons for optimism: Wanderers have decent people in charge, are playing their most attractive football in years and there is genuine hope in the town that a bright young manager in Ian Evatt can build a team capable of climbing the league again. Better still, the town is reconnecting with its club after years of estrangement.
Reasons for caution: This time last year optimism levels were sky high – but Bolton still had further to fall and more lessons to learn before they bounced back off the bottom. Expectations will always be high at this club, but they are no longer big spenders.
Predicted finish: 7th - I am going to settle for that and a cup run. Evatt's side have a habit of exceeding my expectations.
Three to go up: Ipswich, Sheffield Wednesday, Wigan
Four to go down: Cambridge, Cheltenham, Fleetwood, Morecambe
Hope for the season: Progression. I think this team is heading places, and if it takes a season or two to get promoted, then so be it.
BURTON ALBION
Key ins: Cameron Borthwick-Jackson, Deji Oshilaja, Louis Moult, Omari Patrick, Bryn Morris
Key outs: Ryan Edwards. Otherwise no-one you'd describe as key apart from loanees Hayden Carter and Sean Clare
Reasons for optimism: Jimmy Floyd Hasselbaink and his assistant Dino Maamria are heroes in Burton after last season's Great Escape. Hasselbaink was already one for getting them promoted from League Two and putting them on top of League One in his first spell. Unlike so many managers, their plans are believable; their signings make sense. The feel-good factor is unavoidable.
Reasons for caution: There are more big hitters in League One than when Burton were promoted from it - Walsall finished third that year. Sunderland and Portsmouth will again be desperate to escape the division, while Ipswich, Wigan and Bolton all have new owners throwing money around. Sheffield Wednesday may be in disarray, but so were Hull last year and they won the title. For a club with Burton's resources, it is a lot to contend with, however good Hasselbaink is.
Predicted finish: 8th - I'm no Darragh MacAnthony fan, but when the Peterborough owner said he would have hated to have to try to get out of League One this season, he was right.
Three to go up: Portsmouth, Sheffield Wednesday, Sunderland
Four to go down: Cambridge, Fleetwood, Gillingham, Morecambe
Hope for the season: That Burton ruffle feathers, compete and entertain. That Covid stays away enough to keep competition real and that no clubs implode, which also skews results.
CAMBRIDGE UNITED
Publication: Cambridge News
Key ins: Lloyd Jones, James Brophy, Jack Lankester, Sam Smith, Jensen Weir
Key outs: Paul Mullin, Kyle Knoyle, Luke Hannant, Hiram Boateng, Jubril Okedina
Reasons for optimism: The U's are set to embark on their first season in the third tier since the 2001/02 campaign, having secured promotion from League Two last season. United had a memorable campaign last term, after six previous seasons of being unable to challenge the promotion places in the division below. Out of the Football League as recently as 2014, the club are heading back in the right direction, and have an exciting challenge ahead to look forward to.
Reasons for caution: United will be widely tipped to drop straight back down into League Two due to not being an established League One club, and will need to adapt quickly to the new level. The U's have also lost two of their best players from last season in Paul Mullin and Kyle Knoyle. Losing 34-goal striker Mullin is a particular blow to their chances, with his goals leaving a significant void, posing the question as to whether United have enough goals in their team.
Predicted finish: 18th - The U's are good enough to stay up in my view but are expected to finish in the lower part of the table.
Three to go up: Ipswich, Sheffield Wednesday, Sunderland
Four to go down: AFC Wimbledon, Fleetwood, Morecambe, Shrewsbury
Hope for the season: A season away from relegation danger is what U's fans will be hoping for, although securing their League One status is fundamentally the aim.
CHARLTON ATHLETIC
Publication: South London Press
Key ins: Craig MacGillivray, Jayden Stockley, Akin Famewo, Sean Clare, George Dobson
Key outs: Ben Amos, Chuks Aneke, Darren Pratley, Andrew Shinnie, Deji Oshilaja
Reasons for optimism: Nigel Adkins. The manager's experience could be crucial considering Charlton are not right at the top of the spending charts - he has twice won promotion at this level with Southampton and Scunthorpe. The Addicks would have made the top six if their form under Adkins was spread across the 46-game campaign.
Reasons for caution: Still work to be done in this transfer window. The squad is light in a number of areas, and the make-up of Charlton's squad is unlikely to become fully clear until further into this transfer window. They'll be hoping influential centre-back Ryan Inniss can stay fit.
Predicted finish: 4th - Adkins' nous, coupled with the expectation that more quality will be added to the playing personnel, should see them secure a play-off place.
Three to go up: Charlton, Ipswich, Wycombe
Four to go down: Cambridge, Cheltenham, Morecambe, Plymouth
Hope for the season - Promotion. That's the hope. But, based on budget, that can't be an expectation. Charlton should be in the mix.
CHELTENHAM TOWN
Publication: Gloucestershire Live
Key ins: Owen Evans, Elliot Bonds.
Key outs: Josh Griffiths, Callum Wright, Finn Azaz, Sam Smith, Chris Clements
Reasons for optimism: Michael Duff's management skills have allowed Cheltenham to exceed all expectations in winning the League Two title for the first time in their history. They have kept all of their key (permanent) players from last season despite losing some bright young loanees. They are well-organised in a 3-5-2 formation and extremely dangerous from set pieces, with Ben Tozer's long throw-ins causing havoc last season.
Reasons for caution: Cheltenham have spent four seasons in League One before and every one of them has been a struggle. The highest they have finished is 17th (2006/07) but for much of that season they were in the bottom four. They are not a big club in League Two, so they will certainly be one of the smallest in League One in terms of crowds, stadium size and budget. They have missed out on several summer targets.
Predicted finish: 16th – Duff has rewritten Cheltenham Town's record books several times as a player and now as a manager, and he can do it again.
Three to go up: Charlton, Ipswich, Portsmouth
Four to go down: AFC Wimbledon, Cambridge, Morecambe, Plymouth
Hope for the season: Most fans would take survival, which would be some achievement, but Duff will set his sights higher and 16th would make history – that's the aim.
CREWE ALEXANDRA
Publication: Crewe Chronicle
Key ins: Callum McFadzean, Tommie Hoban, Kayne Ramsay, Shaun MacDonald, Chris Long
Reasons for optimism: Crewe had an impressive 2020/21 season, finishing 12th in their first campaign back at this level since 2016. The experience of the last 12 months, plus the addition of new signings, gives them the opportunity to build on that.
Reasons for caution: The majority of clubs in the division will be operating with a bigger budget, in fact manager Dave Artell reckoned his side had the lowest playing budget in the division last season. That's not to write off a side who instead rely heavily on home-grown players, but the competition will be tough.
Predicted finish: 10th - steady improvement after a year's adjustment to League One.
Three to go up: Ipswich, Sheffield Wednesday, Wigan
Four to go down: AFC Wimbledon, Cambridge, Cheltenham, Morecambe
Hope for the season: The manager was proud of the attractive football his team produced last season. More of the same and maybe a challenge for the play-offs.
DONCASTER ROVERS
Publication: Doncaster Free Press
Key ins: Tommy Rowe, Matt Smith, Ben Close, Kyle Knoyle, Jordy Hiwula
Key outs: James Coppinger, Reece James, Brad Halliday, Matt Smith, Joe Wright
Reasons for optimism: The club as a whole feels refreshed following the appointment of beloved former player Richie Wellens, who has breezed in armed with a new style and his typical no-nonsense attitude. The signings so far certainly appear to have strengthened the starting XI and, despite Covid-related disruption over the last few weeks, there have been positive signs in pre-season the group are quickly adapting to what Wellens wants from his team - namely attacking, front foot football.
Reasons for caution: The biggest concern at this stage is the lack of depth in the squad. The starting XI looks strong enough to mount a decent challenge for the top six this season. But beyond it, there is not a tremendous amount of proven quality in reserve. Wellens will be looking to bolster the squad before the closing of the window but it is now at the stage where players will need to leave before others are brought in.
Predicted finish: 6th - a lot will need to go right with injuries and suspensions but some of the early signs of what Wellens has been able to do have been very exciting.
Three to go up: Charlton, Ipswich, Sunderland
Four to go down: Accrington, AFC Wimbledon, Cambridge United, Morecambe
Hope for the season: Very little Covid disruption. Rovers saw half the senior squad put into isolation due to a single case earlier this month. Something similar in the season could be catastrophic.
FLEETWOOD TOWN
Publication: Blackpool Gazette
Key ins: Tom Clarke, Max Clark. Brad Halliday, Ryan Edmondson, Callum Morton
Key outs: Wes Burns, Paul Coutts, Josh Morris, Sam FInley, Mark Duffy
Reasons for optimism: Simon Grayson got himself settled into the job by the end of last season and had one of the best defensive records in the league. In that regard, his two young starters are now more experienced, he's added Tom Clarke who is a leader and Max Clark who has the potential to be dangerous on the left side. There's good young talent at Highbury.
Reasons for caution: Firepower, or a lack thereof. Start striker Paddy Madden and Ched Evans departed during the course of last season and were never adequately replaced. This summer has seen Ged Garner flying the flag solo, a raw, young forward, and he's only just been joined by Callum Morton who is yet to prove himself in League One. Assuming their defensive record is similar to last season, scoring goals could make or break this one.
Predicted finish: 14th - Goals and creativity a worry.
Three to go up: Ipswich, Rotherham, Wycombe
Four to go down: Cambridge, Cheltenham, Crewe, Morecambe
Hope for the season: Fans remain throughout, the young talent continues to impress and Simon Grayson gets the most out of the group to push the top six.