'I'm immensely proud but happy to be retiring' - James Coppinger on family, pride and Doncaster Rovers supporters
"I never grew up wanting to be a professional footballer. I never had any ambition to do it whatsoever."
Sunday, 16th May 2021, 10:00 am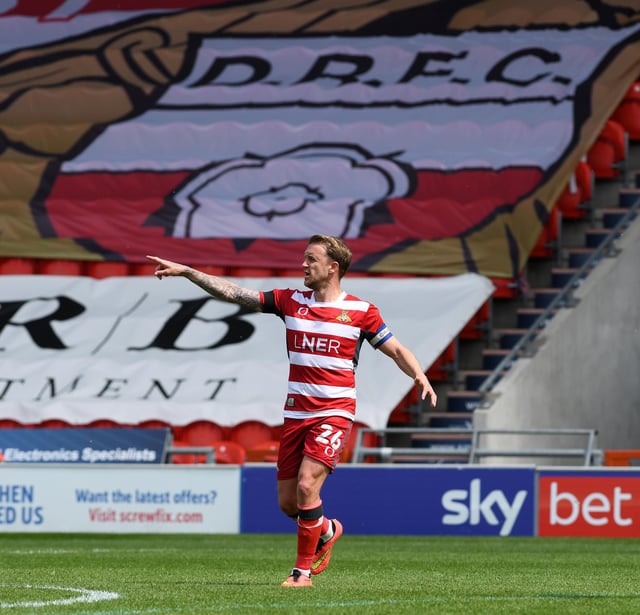 James Coppinger
"To make my Premier League debut under Bobby Robson at 19, to sign for one of the biggest clubs in the country at the time.
"To be at the club for 17 years, win three promotions, win at Wembley, win at the Millennium Stadium, score hat tricks and have so many unbelievable moments, I cannot not be proud.
An emotional James Coppinger during his final post match press conference
"It's been an unbelievable career and one that I'm immensely proud of but happy that I'm finally retiring."
The curtain was brought down on an iconic playing career for James Coppinger on Sunday.
The 4-1 defeat and manner of the performance was largely inconsequential in the overall narrative of the day. Coppinger himself admitted afterwards that it probably helped ease any pangs of doubt over his decision.
But there were still tears as he left the pitch for the final time and they flowed again in the press room, despite his assertions that they would not.
James Coppinger and Richie Wellens celebrate victory in the play-off final in 2008
As much as he did not have control over his own emotions, nor did he for the gathered media who were also attempting to hold back the tears too.
Here was a man who mere minutes ago had played his last few moments in professional football, bringing to end a stellar career that will never likely be matched at the club.
At 695 appearances, his time at Rovers is unparalleled in the club's history books - given too everything he has achieved during his time in Doncaster.
It saw him honoured with the Sir Tom Finney Award by the EFL, which he felt was the perfect bookend to a storied career.
James Coppinger during his first season as Rovers boss
"All those things they talk about, loyalty, talent, commitment - I set out to start working on them when I came here," he said.
"I wanted people to say those things about me.
"To get that in my final season, to get that recognition and for people to be speaking about me as they have been, I'm really proud of that.
"To do it for 17 years and be that consistent, it takes a lot of effort and mental strength.
"It's the icing on the cake. It's the final piece of the puzzle.
When he looks back on his life in his dotage, Coppinger will reflect on the fact the town has played such a hugely important role, not just with his profession but his family.
"My wife moved to Doncaster, worked in Doncaster at the hospital and my kids were born in Doncaster," he said.
"We lived here for ten years and it was an unbelievable part of our lives and it always will be."
His wife Lucie and his three children watched his final game from an executive box at the Keepmoat.
His daughter Phoebe was vocal throughout the game and provided the perfect soundtrack for her dad's last game.
"Listening to my daughter, who hasn't been to many games, was a breath of fresh air," he said.
"All the lads said they could hear her screaming.
"It just means so much to me to have them here, with Terry [Gormley] and Sean McDaid who I played with and now is my agent and one of my best friends.
"To have them here on my last game, although it was not the best circumstances with the performance and result, means so much.
"They've been absolutely unbelievable.
"But the biggest person has been my wife, and I very rarely speak about her.
"She's just been unbelievable.
"She actually doesn't know anything about football. She thought that Sven-Göran Eriksson was two people.
"She used to say why do you always see Svengor and never Eriksson?
"It's been unbelievable for me to have someone to go home to who doesn't care about football or whether we win or lose.
"That has been an unbelievable support and I think it's one reason why I've been able to go on for so long."
One person who did not attend was his dad, who wanted to avoid seeing his son's career end in an empty stadium without fanfare.
And given the scoreline, Coppinger says he will have sat back with plenty of satisfaction that he made the right choice.
"My dad didn't come and I do get it, even more so with the performance and the result," he said.
"For him, he'll be sat at home, thinking he's thankful that I didn't score three and we won 3-2.
"I can understand it. My dad has watched me since I was a kid and supported me the whole way so he's earned the right to decide what to do.
"He asked me if I wanted him to be here and he said he'd come if he did but I didn't want him to feel like he had to.
"For him not to be here doesn't really affect me because I'm just really proud and thankful for what he's given me throughout my career."
The last word from Coppinger is directed towards the fans, hundreds of which waited outside the Keepmoat on Sunday to give him the send-off he so richly deserved.
"I just want to thank everyone over the years for their support," he said.
"It hasn't been all plain sailing, it's been tough at times and I have had criticism, which was justified a lot of the time. But I'd like to think that what they say in me is what I see in them in terms of loyalty, commitment, effort and love for the football club.
"It's a mutual relationship I think will last forever."
*