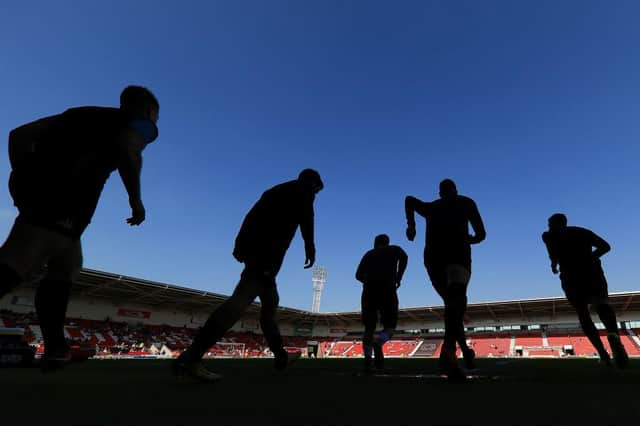 Doncaster Rovers fans have been unable to watch their team since March, due to the Covid-19 pandemic. (Photo by Stephen Pond/Getty Images)
Here's everything you need to know about how this will affect Doncaster Rovers and their divisional rivals in League One:
What are the new rules?
The new rules are a notable change to the current guidance, which allows two households, regardless of size, to meet up providing social distancing measures are observed.
Following the law change, groups of more than six people will not be allowed to meet in any setting, be it indoors or outdoors.
The areas this will not apply to include workplaces, schools, and organised team sports. Failure to observe the new restrictions will be punished with a £100 fine, which would double on any subsequent offence up to £3.2k.
How may it affect live sport?
Last night, a crowd of 862 supporters were present - with social distancing and mask-wearing strictly imposed - at the Abbey Stadium to see Cambridge United defeat Fulham 2-0 in the EFL Trophy last.
However, the latest update looks to be a blow for the Government's pilot scheme to begin the reintroduction of fans to football stadiums, and plans to have 2500-strong crowd at Cambridge United's home clash against Carlisle United this weekend now look to be in jeopardy.
The FA Trophy and FA Vase finals, scheduled for September 27th, are further events scheduled in the pilot scheme, with 10,000 fans set to attend. Again, these plans could now be amended.
When will we learn more?
UK Prime Minister Boris Johnson will make an announcement at 16:00, which is likely to include an explanation on how the new changes will impact the pilot scheme, and in turn provide further information on how the progress of bringing fans back to football stadiums will be affected.
What is the state of play now?
The Premier League and EFL continue to discuss potential solutions that could see the return of supporters at football grounds. These include social distance tracking devices within stadiums, smartphone-linked health passports, and fluorescent disinfectants to reveal where fans have touched various surfaces.