Familiar words from Andy Butler as he speaks of more frustration in Doncaster Rovers' defeat to Fleetwood Town
There was a familiarity in Andy Butler's post-match comments following Doncaster Rovers' defeat to Fleetwood Town – as the manager himself acknowledged.
Sunday, 25th April 2021, 12:52 am
Updated
Sunday, 25th April 2021, 7:40 am
Butler spoke of frustration and disappointment in the loss, just as he has done on multiple occasions during a run which has now seen Rovers lose nine of their last 12 outings.
And he again was left bemoaning a lack of attacking threat and fight from his team.
"It's frustrating and disappointing again," Butler said. "It seems like we're saying that every single week.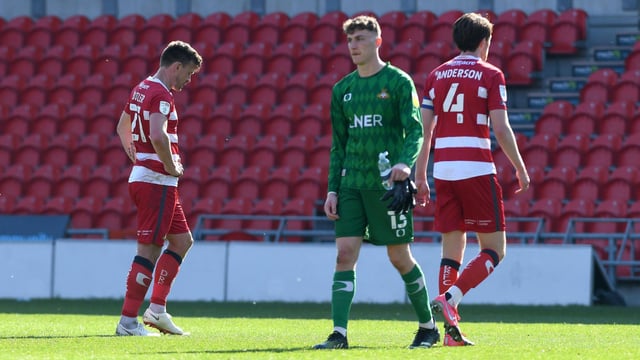 Andy Butler shows his disappointment at full time in Rovers' defeat to Fleetwood Town. Picture: Andrew Roe/AHPIX
"One mistake led to the goal and then you're fighting an uphill battle.
"We kept the ball well in the first half but we never really threatened. It's probably the best we've been on the ball for a while.
"Once Fleetwood got their goal they professionally saw it out.
"We lost too many individual battles on the day. They overran us.
"Everyone has had the game time, everyone has had a lot of games in a short space of time but teams look fitter than we are.
"It's so frustrating whether you're on the pitch or on the sidelines.
"We give them all the information they need but it's just about applying it on the pitch.
"At this moment in time we're not applying it. We're not doing the basic stuff right and we're losing too many battles.
"We don't look physically strong.
"The stats from this run are damning.
"It's not for the want of trying but on the pitch you don't see a replication of what they produce in training."
*