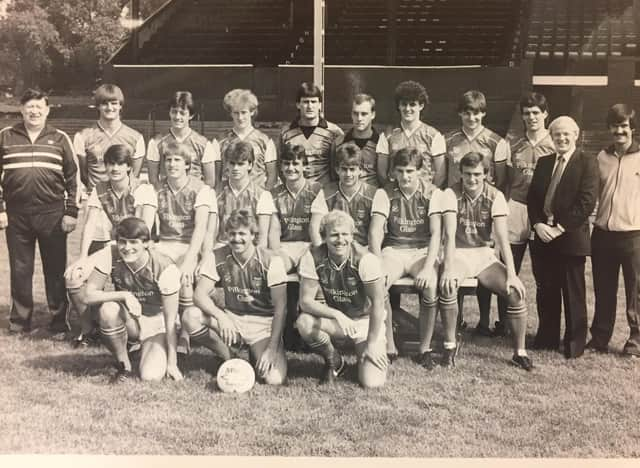 Doncaster Rovers 1984/85. Back (l-r) Eric Brailsford (physio), Steve Lister, Gary Lee, Nigel Saddington, Dennis Peacock, Paul Gregory, Colin Douglas, John Philliben, Steve Yates, Billy Bremner (manager), Dave Bentley (ass. manager). Middle (l-r) Ian Snodin, Billy Russell, John Buckley, Jim Dobbin, Glyn Snodin, Glenn Humphries, David Harle. Front (l-r) Neil Woods, Andy Kowalski, Alan Brown.
He began his career with Nottingham Forest and enjoyed a decent run in the first team but by 1975 he had lost his place in a team now managed by Brian Clough. He took the opportunity of a loan move to Rovers to deputise for Graham Brown, away playing in the USA. When Clough moved to sign Rovers winger Terry Curran, Peacock and Ian Miller came to Belle Vue as part of the package deal.
Peacock stood 6 feet 3 inches tall and was powerfully built with a strong kick. He commanded his area well, although his shot-stopping sometimes let him down. He played in all the League Cup ties in the 1975-76 season when Rovers reached the quarter-finals, although a piece of mis-communication between him and skipper Les Chappell gifted Tottenham Hotspur a goal when the quarter-final tie was poised at 2-2. Rovers went on to lose 2-7. For a time, Peacock lost his place to Brown, but at the end of the season the latter was released. Peacock went on to be an ever-present in 1976-77 and 1978-79 and missed only four games (due to injury) in 1977-78.
With Stan Anderson, the man who signed him, giving way to Billy Bremner, Peacock might have felt his position under threat. However, Bremner had full confidence in the goalkeeper but could not resist an offer of £70,000 to sell Peacock to Bolton Wanderers in March 1980. There he linked up again with Anderson, who had just replaced Ian Greaves as manager. It was not a happy time for Peacock, who made only 16 league appearances in two seasons, and he jumped at the chance to return to Rovers in August 1982.
While Peacock had been away, Willie Boyd had established himself as number one, but with Boyd suffering from an ongoing knee problem, Peacock was soon back in regular action. He had the misfortune to play behind a very porous defence as Rovers were relegated to Division Four in 1982-83, but he was a key member of the side that won promotion the following season. In 1984-85 he missed only two league games and starred in the FA Cup third round victory over QPR. He also had a fine game at Everton in the next round, and swapped shirts with Neville Southall, later to play briefly for Rovers, at the end of the game. The following season he was troubled by a back injury and missed several games and after Rovers signed Andy Rhodes from Barnsley, he struggled to win back his place. He had a loan spell with Burnley, but with his back still troubling him he retired at the end of the 1985-86 season.
After leaving Rovers Peacock played some non-league football with Lincoln United before taking up employment in the prison service in his native city. He was a fine servant to Rovers and a great character as well as being a fine goalkeeper. For many years after his departure the cry "Easy for Dennis" could be heard from the Popside as one of his successors caught the ball, a tribute to the esteem in which he was held by the fans.
Born: Lincoln, 19th April 1953
Signed for Rovers: August 1975 from Nottingham Forest (initially on loan)
Left Rovers: March 1980, transferred to Bolton Wanderers
Re-joined Rovers: August 1982 from Bolton Wanderers
Left Rovers: May 1986, retired from full-time football (to Lincoln United)
Appearances: League 329, Cup 44