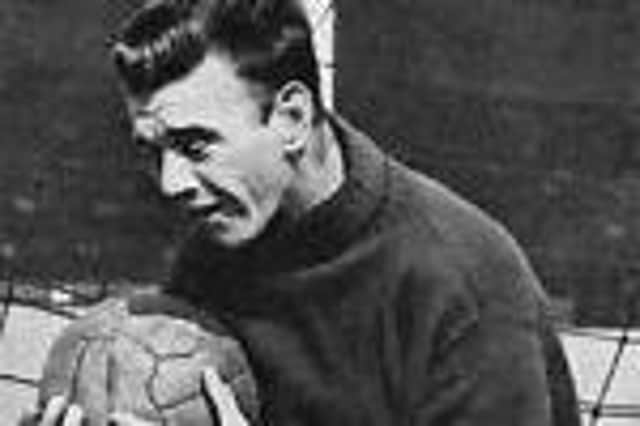 Ken Hardwick
Although born in the north-east, Ken moved to Rossington with his family when he was a child and he represented Doncaster Boys. The promising young 'keeper might have made the professional ranks earlier but for the war, but at the age of 21 he joined Rovers and he was a regular in the 1945-46 side, making his senior debut in the two-legged FA Cup tie that was played that season.
When the league campaign resumed in 1946-47, Ken was unavailable due to military service and Archie Ferguson established himself in goal. In December 1947, though, Ferguson was injured in a game at Southampton and Ken came into the Rovers side. He was to remain as first choice for the next seven seasons. Although he had to see off the challenges of Berry Brown and Pat Gillespie (who had begun his career for Rovers as a centre-forward!) by 1949-50 Ken was established as top dog, and did not miss a game in Peter Doherty's first season in charge at Belle Vue. Rovers won the Division Three (North) title that season, Ken playing a leading role in a miserly defence that conceded only 38 league goals.
Although not the biggest of goalies, Hardwick was agile and brave and competed well in the air with the physical centre-forwards of the day. In 1950-51 he missed only one game and the following season only four. Rovers had established themselves in Division Two (now the Championship) and although they did not achieve high placings, they enjoyed some interesting and entertaining seasons. They did well in the FA Cup, reaching the fifth round in 1951-52, 1953-54 and 1954-55, and Ken was in goal in all those matches, including the epic duels with Aston Villa in 1954-55. Ken was well served by a consistent defence, with full-backs Brian Makepeace and Len Graham's careers coinciding with those of the goalkeeper. At centre-half, Syd Bycroft was succeeded by Bill Paterson and then Charlie Williams.
The biggest threat to Ken's position came from a young Ulsterman signed in October 1952. However, Harry Gregg was unable to oust Ken from the side, a testament to the quality of the older man. Eventually, at the end of the 1955-56 season Gregg got a lengthy run in the side and in 1956-57 Ken found himself acting as deputy to Harry. Ironically, Ken's form had been so good in 1955 that he had received a letter from the FA calling him up for the England Under-23 side. Ken had to inform the selectors that, flattered though he was, he would have to decline on the grounds that he was 30!
In April 1957 Hardwick left Rovers but, now aged 33, he was to enjoy and Indian Summer at his new club, Scunthorpe United. In 1957-58 they won the Division Three (North) championship and Ken was ever-present. Meanwhile at Belle Vue Gregg had been sold to Manchester United and Rovers could have done with an experienced and dependable goalkeeper to call upon. While Scunthorpe moved up, Rovers went down to the newly formed Division Three. Ken had a season with Scunthorpe in Division Two, then finished off his professional career with Barrow before returning to his first club, Rossington Colliery. In 1983 Hardwick died at the relatively young age of 59. He deserves to be remembered as one of the greats of Doncaster Rovers, a fine goalkeeper, and an excellent servant to the club.
Born: West Auckland, 6th January 1924
Signed for Rovers: April 1945 from Rossington Colliery
Left Rovers: April 1957, transferred to Scunthorpe United
Appearances: League 307, Cup 24