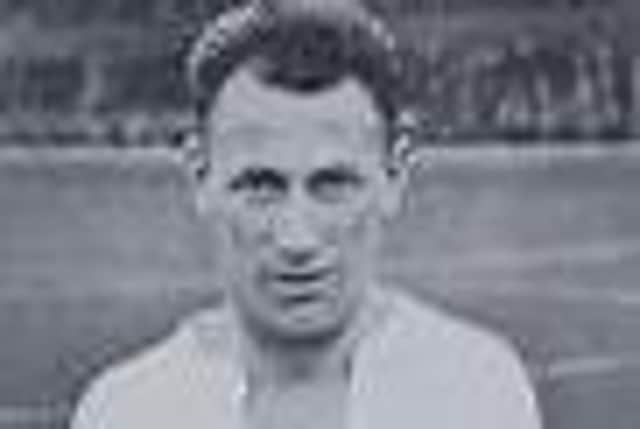 Jackie Bestall
Keep an eye on Free Press Sport over the coming weeks as Rovers historian John Coyle profiles the club's best bosses.
4 JACKIE BESTALL (1946-1949)
After the departure of Fred Emery in 1940, Rovers had no manager for five years while wartime matches were played. However, with the possibility of normal league football resuming in 1945-46, the club appointed Bill Marsden as the new manager.
Marsden, a former Sheffield Wednesday and England half-back, combined his duties with running a pub in Sheffield.
He appointed Jackie Bestall as his deputy, and when in March 1946 the Rovers directors decided they wanted a full-time manager, it was Bestall who got the job.
Bestall had a fine pedigree as a footballer. Born in Beighton in June 1900 he had spent 12 years with Grimsby Town after a spell with Rotherham United.
He was Town's captain when they won the Division Two title in 1933-34 and he helped keep them in the top flight until 1938 when he retired to become Birmingham City's chief scout.
A small (5'5"), skilful inside forward, Bestall won an England cap against Northern Ireland at Goodison Park in 1935.
Marsden and Bestall had recruited some fine players, for example Archie Ferguson, Paul Todd, Bert Tindill, Clarrie Jordan and Jackie Thompson.
Nevertheless, Bestall could not have quite anticipated what was to come as Rovers stormed to the top of Division Three (North) in 1946-47, winning the title with a then record 72 points.
The following season was to be a sobering one: Rovers could not afford to make new signings and the team appeared out of its depth in Division Two.
As the season progressed, Bestall signed Alf Calverley, Walter Bennett and his former Grimsby team-mate, Jack Hodgson. In order to balance the books, Jordan was sold to Sheffield Wednesday. Despite improved results in the latter part of the season, Bestall's remodelled side was unable to avoid relegation.
1948-49 saw major changes to the playing staff, and Bestall made some shrewd signings, including Syd Goodfellow, Ken Reeve and George Antonio. He also brought Bert Tindill back into the side, and the young winger responded by scoring some vital goals.
Rovers went on to finish third in a Division Three (North), where only the champions were promoted.
In April 1949 Rovers announced that the Northern Ireland international Peter Doherty would be joining the club as player-manager for the 1949-50 season.
This effectively meant the sack for the popular Bestall, although the club softened the blow by paying up the remainder of his contract and allowing him to stay in his club house.
Ironically, it was Bestall who had initially persuaded the board to make an approach for Doherty, then playing for Huddersfield Town. The players, who were sorry to see their much liked and respected manager leaving the club, presented Bestall with an engraved barometer.
Bestall was soon back in work as manager of Second Division Blackburn Rovers in June 1949. He remained at Ewood Park for almost four years, during which time they reached an FA Cup semi-final. He left in May 1953 and later managed non-league Nelson before returning to Belle Vue as chief scout in 1958.
He had three further spells in charge of Rovers, the most notable between February and December 1966, when in partnership with trainer Frank Marshall he oversaw the climax of Rovers' 1965-66 Division Four championship campaign. He died in April 1985.
Senior record with Rovers (1946-1949)
First match: 31st August 1946 v Rochdale (home) won 2-1
Last match: 7th May 1949 v Stockport County (away) lost 1-5
P132, W64, D28, L40, Winning percentage: 48.5%
Overall record with Rovers (including caretaker spells)
P189, W85, D40, L64, Winning percentage: 45.0%
Visit www.doncasterfreepress.co.uk to read John Coyle's countdown of the top 10 Doncaster Rovers managers.
Who's the best Rovers manager in your opinion? Email your thoughts to [email protected]