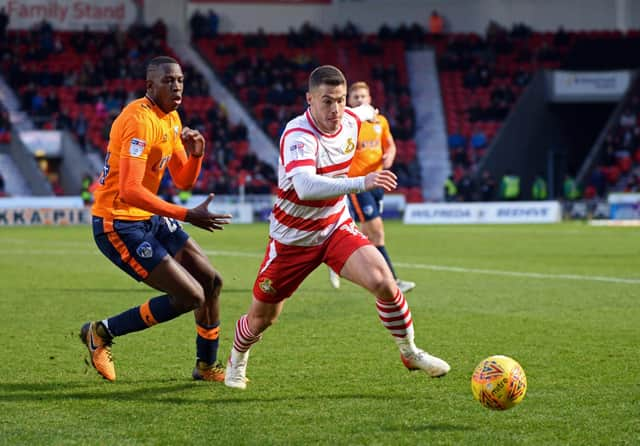 Tommy Rowe in action for Rovers during his previous spell at the club
Rowe has returned to Rovers two years after departing for Bristol City and has become the fourth signing of the Wellens era.
The 32-year-old had multiple offers put to him by clubs across the country. And despite being offered bigger contract elsewhere, he opted to return to the Keepmoat.
"We've been nervous about getting this done because he's the type of player that someone could easily come in with an offer that would have blown us out of the water," Wellens told the Free Press.
"But I have to say that Tommy Rowe has not signed for Doncaster Rovers for financial reasons.
"He's come because he's hungry, he wants another promotion on his CV and he wants to work in an environment with a group of staff and players that he can see are fighting together and moving forward.
"I have to take my hat off to Tommy and he's accepted the deal he has been offered.
"From the outside people will be looking and saying Doncaster Rovers have paid a lot of money but it's absolutely not the case.
"He's someone we've got as a real bargain and he's coming in with a tremendous career already under his belt, but he just wants to kick on with his career.
"The club have played a big part in it because he's got his relationship with the supporters and his memories of the supporters. I think that went a long way in his decision too."
Wellens feels Rowe - who made 144 appearances for Rovers in his previous spell - will be a like-for-like replacement for Reece James.
During his time at Ashton Gate, the 32-year-old largely operated as a left back and that will be his main position at Rovers, despite operating as a midfielder during his last stint at the club.
But according to Wellens, his versatility makes him the ideal replacement for James, who earned a move to Championship side Blackpool earlier this month.
"I think we've got a like-for-like replacement for Reece James," Wellens said.
"He can play a number of positions.
"If you do play him at left back, he's still got threat going forward. I think he's got goals in his locker from there.
"And sometimes I do like my full backs to go and play in centre midfield, or play high and wide.
"The fact he can play left wing and he can play centre midfield gives us so much flexibility when we've got the ball and we're not rigid in our play.
"He's played so long now at left back or left wing back that he's got into a rhythm and a routine. If we pick up an injury I might need to put Cameron John at left back or Branden Horton and put Tommy in midfield.
"Again, it gives us so many options. We're getting two players in one."
*