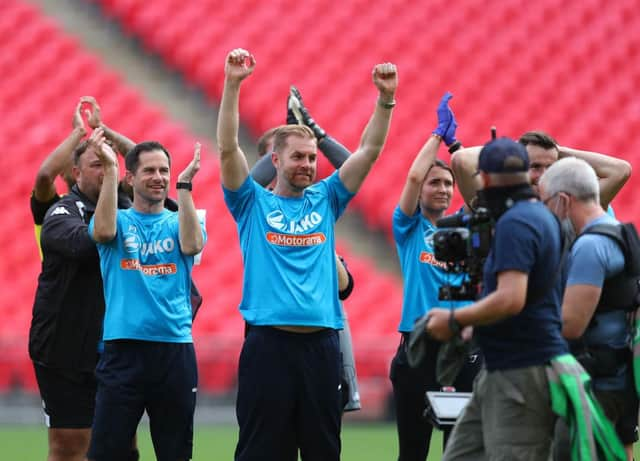 Simon Weaver made his professional playing debut with Doncaster Rovers. His father Irving, chairman of Harrogate Town, also runs Doncaster-based construction company Strata Homes. Photo by Catherine Ivill/Getty Images
The Sulphurites beat Notts County 3-1 in the National League play-off final at Wembley to book their place in the league for the first time in their 106-year history.
The more significant timescale was the three years since a club which has really stepped up its ambitions under the chairmanship of Weaver's father, Irving, turned full-time.
Harrogate won promotion from Conference North in 2018, reached the Conference play-offs in 2019 and won them this year. Now Weaver has no intention of simply making up the numbers in League Two.
"Maybe in my wildest dreams I could have imagined it happening this quickly but it was always a case of block by block," said Weaver, manager since 2009. "It was never going to be quick because of where the club was at the time. But we've gone through the gears since we had the opportunity to go full-time. We've got an identity now of aspirational footballers who want to keep pressing on.
"When we went full-time we thought let's be competitive, stay up, consolidate and build on that. We thought it might take three or four years to build up enough strength and know-how to go up again but you never put a ceiling on your ambitions. We've found ourselves in a great position because of the attitudes of the players and their ability as well.
"It's unbelievable. It's a culmination of a lot of hard work by a lot of honest people behind the scenes as well as on the pitch. It's been some journey but hopefully this isn't the end of it."
With the new season on the horizon, Harrogate have had to act quickly again, removing the artificial pitch not allowed in League Two and starting 2020-21 groundsharing with Doncaster. The squad, though, will not be ripped up.
"You have to be ruthless sometimes in management but the lads have earned their stripes enough to have a go at the next level," said Weaver.
"With our never-say-die culture we can cause some problems but the driving force is in the changing room. If they thought we were going to get rid of them at the next level, we wouldn't have had that performance."