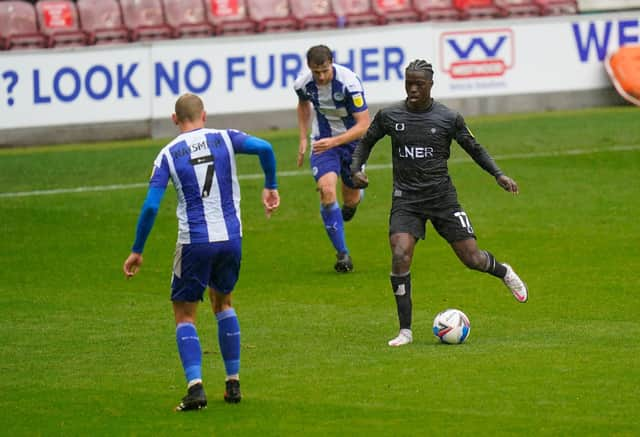 Taylor Richards, who is on loan at Rovers from Brighton and Hove Albion
Baldwin revealed to the Free Press that the financial burden of three of Rovers' current four loans does reduce with the more game time each of the player receives.
However, he says that any conditions attached to loans are of no concern to boss Moore, with the playing budget designed to cope with whatever level of fees are ultimately owed to parent clubs.
"On three of the players we've got an agreement on a loan fee but if they hit certain criteria then that loan fee reduces," Baldwin said.
"We've taken a sensible view of how many minutes we think each individual will play, when we set the budget.
"But equally if that player doesn't play, we've allowed a tolerance within the budget that means we can cope with it.
"And so Darren is never in a position whereby a player has to play regardless of form or injury."We've set ourselves at the higher level of expenditure to the club and if it comes in less, that's really helpful and could help with conversations in January for instance.
"We're comfortable with the deals and wherever they come out and the payments needed.
"Therefore Darren doesn't feel he has to play any player in the team."
Baldwin says negotiations over conditions that would be added to loans take place between himself, talent identification manager Adam Henshall and counterparts at the parent clubs.
And Baldwin and Henshall are under strict instructions from chairman David Blunt not to agree to anything that would force Moore's hand in selecting his team.
"The chairman has led on this but we'd never sign an agreement that puts the manager in a position that he has to pick that player," Baldwin said.
"Equally, and I mean this appropriately, it shouldn't concern him the financial deal that we do with the other club because all he should do is pick the best players, in the best form at the best time.
"Any conversation about finances with the other club is done at my level, not to put Darren under pressure.
"I'll do a deal and I will know at worst case and best case we can cope with it and that pressure is then not passed down to Darren.
"Myself and Adam would lead on the discussions over things like minutes and when the deal is done we hand that player over Darren to convince him that Doncaster Rovers is the best club to come to.
"Then, if Darren picks a player, he thinks it's best for Doncaster Rovers on that matchday."
Rovers currently have four loan players on their books with Tyreece John-Jules arriving from Arsenal, Rayhaan Tulloch from West Bromwich Albion, Josef Bursik from Stoke City and Taylor Richards from Brighton and Hove Albion.
All four have started every game for which they have been available since arriving at the club, though Tulloch has been injured for the last three weeks.
*
Thank you to all who support local journalism with a print subscription.
The events of 2020 mean trusted, local journalism is more reliant than ever on your support.
We couldn't do it without you.
Please subscribe here https://www.localsubsplus.co.uk/ so we can keep campaigning on your behalf.
Stay safe.