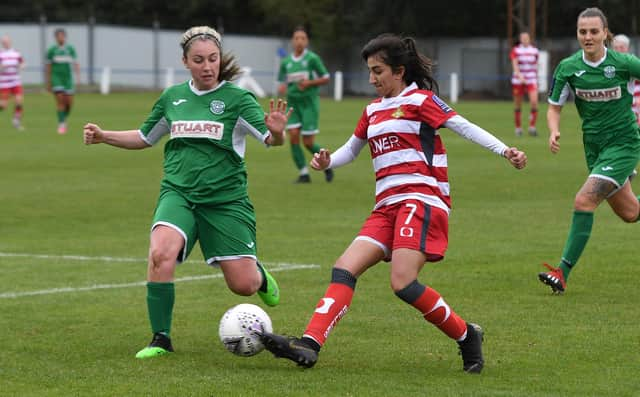 Nadia Khan in action for Belles
Butler is in pole position to land the Doncaster Rovers job on a permanent basis after being handed the reins following Darren Moore's exit – and the growing feeling is that it is his job to lose.
The 37-year-old made a favourable impression on Club Doncaster bosses by initially steadying the ship at Belles and then getting them back on an upward trajectory following his appointment in January last year.
Belles are now seeking to appoint a new head coach but only on a short term basis, initially until the end of the current season.
The FAWNL Division One Midlands season has been cancelled for a second successive year due to coronavirus but Belles are keen to arrange friendly matches in preparation for a promotion push next term.
The job advert for the Belles vacancy reads: "Following an organisational restructure, we are looking to recruit a senior head coach for our Doncaster Belles senior team. This will initially be a short-term contract until the end of the 2020/2021 season.
"The successful candidate should have a demonstrable track record of coaching senior players, preferably within an elite female environment, and the ability to quickly develop professional relationships with players to create a positive and free flowing learning environment.
"Applicants should possess a UEFA B outfield coaching qualification and be able to demonstrate within their application and at interview how they have managed players and game situations within the elite game.
"Reporting to the chief executive, the person will assist with the identification of an interim fixture and training schedule to ensure that we continue to provide our players with a high standard programme in preparation for the 2021/2022 season."