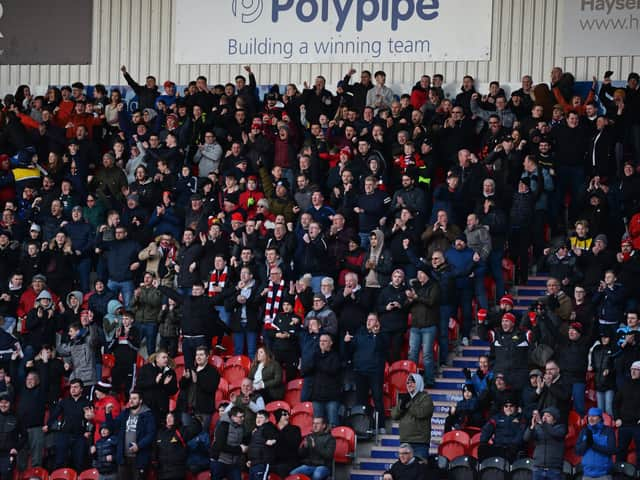 Doncaster Rovers supporters in the Keepmoat
After eight months of being locked out of their beloved home, fans would have been preparing for their return to the Keepmoat Stadium.
Last weekend's decision to postpone the clash with Shrewsbury Town set for this weekend should have been a bitter blow, with that return pushed back another ten days.
But the even bigger suckerpunch came a few weeks prior when the government fastened another set of padlocks on the public entrances to stadiums up and down the country.
And as the day passes with gates and doors firmly locked and no sign of any opening date, I increasingly cannot understand why.
It must be said that - with whatever view you may have on the effectiveness of their methods - the government is attempting to lasso a strap on the rampant virus.
But as they continue to focus on protecting certain business sectors by merely placing restrictions on human interaction, it is hard to see any just and logical reason why stadiums cannot be opened up under the watertight plans clubs have meticulously drawn up over the last few months.
Football clubs have proven they are capable of doing it. The pilot events were flawless.
I had the privilege of being at the game between Rovers and Charlton Athletic where 1,000 supporters were allowed into The Valley and I left thoroughly impressed with how it all worked.
The way fans were marshalled, guided and kept informed was superb. And the way the supporters responded to what they were being asked was exceptional - and heartwarming.
Ultimately, the afternoon, both inside and outside the ground, felt safe.
I certainly felt a lot safer than I did walking down St Sepulchre Gate in town a few weeks back. And I know which experience I'd rather repeat.
Whether as a pilot or part of the wider opening of stadiums, clubs will not allow the events to fail, simply because they cannot afford them to.
In the lower reaches of the EFL as well as the National League, clubs are on their knees because they don't have access to matchday revenues which make up the vast majority of their income.
Gambling on the availability of those revenues with slack planning and poor execution is not an options for clubs in dire need of a financial boost.
Even as a member of the press, entering a stadium where they will only be a few dozen people, the operation is incredibly strict. Put one foot in the wrong direction and there will be a member of staff ready to pounce and point you the right way.
It is as it should be. As it needs to be.
There has been such an emphatic response from individual clubs to the EFL's petition for the return of fans - a bold move from an organisation not typically so keen to rock the boat.
And while the need for the return of fans only grows with each passing week, it is the confidence that their plans and methods will succeed in creating a safe, low risk environment at the grounds that makes clubs so eager to push for the green light.
*
Thank you to all who support local journalism with a print subscription.
The events of 2020 mean trusted, local journalism is more reliant than ever on your support.
We couldn't do it without you.
Please subscribe here https://www.localsubsplus.co.uk/ so we can keep campaigning on your behalf.
Stay safe.